The space station is visible in the night sky this month. Would you like to see it? Sign up for Spaceweather PHONE.
SOLAR WIND: A solar wind stream is buffeting Earth's magnetic field. This could spark auroras tonight over Alaska, Canada and Scandinavia.
LUNAR ECLIPSE: On March 14th the full Worm Moon dipped into Earth's shadow producing a penumbral lunar eclipse visible from Europe, Africa and eastern parts of North America. "The moon rose at mid-eclipse here in Indiana," says Robert B Slobins who had his camera ready and snapped this picture: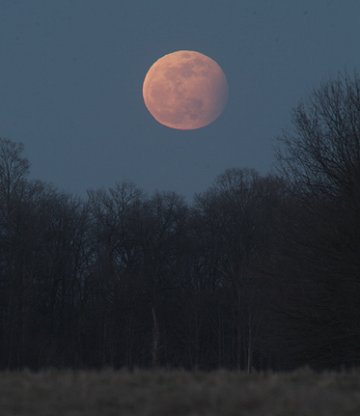 March 14 Lunar Eclipse Gallery
The red color of the moon is not the eclipse. Moons turn red when they are viewed through low dusty layers of Earth's atmosphere. The eclipse is the gray shading of the moon's right quarter. "A very subtle display, hard to notice if you were not told, but charming nonetheless," says Koen van Gorp of Boechout, Belgium, another photographer whose work appears in our lunar eclipse gallery.
JUPITER MOVIE: Astronomers call Jupiter "the giant planet" for a reason: It's so big, 11 times wider than Earth, that you can see fantastic details through an ordinary backyard telescope. On March 12th, Mike Salway of Australia made this 90-minute movie using a 10-inch telescope and a CCD video camera:

Click on the image to see the rest of Jupiter.
Dominating the scene is the Great Red Spot, the biggest storm in the solar system; two planet Earths could fit inside with room to spare. Can you also see Jupiter's newest red spot, Red Jr? It pops over the planet's limb near the end of the movie.
To see Jupiter for yourself, wake up before dawn and look south. Jupiter is the brightest "star" in that part of the sky. You can't miss it.
more images: from Chotechai Piyavongsiri of Bangkok, Thailand (note the shadow of Europa on Jupiter's cloudtops).