Aurora season is beginning. Are you ready? Check out Spaceweather PHONE.
PLUTO PETITION: A strange thing happened on August 24, 2006. After years of debate, the IAU finally settled the question of Pluto, declaring it is not a planet. The strange thing is, people won't stop debating. Here's your chance to join the fray: Sign the Pluto Petition.
LUNAR ECLIPSE: Last night, a fraction of Earth's shadow fell onto the Moon, producing a partial lunar eclipse visible from Europe to Australia. When the shadowy Moon rose over France, Laurent Laveder photographed his friend Sabine holding up a hoop. Why? (continued below)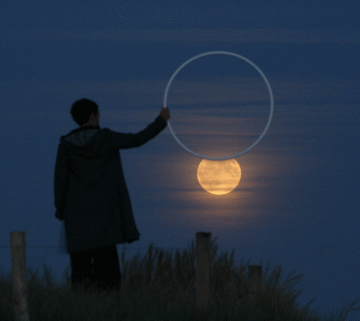 See more of Laveder's Moon pictures
"The hoop traces the outline of Earth's shadow," explains Laveder. The "umbra" is the dark core of the shadow, while the "penumbra" is its pale fringe. This eclipse is partial because only the tip-top of the Moon has disappeared into the umbra.
Sept 7th Lunar Eclipse Gallery
SPACE SHUTTLE: Tomorrow, NASA hopes to launch the space shuttle Atlantis on a two-week mission to the International Space Station (ISS). A few nights ago, in a moment of "rare timing," photographer Ben Cooper caught the ISS soaring over Atlantis as it sat waiting on the floodlit launch pad at Kennedy Space Center: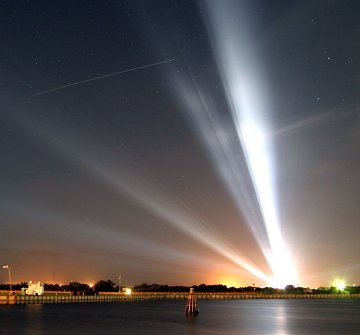 When Atlantis takes off, it will carry a 35,000-lb truss to the ISS. Spacewalking astronauts will install the truss, then unfold a new set of solar panels spanning 240 feet from tip to tip. The additions will increase the surface area of the station and make it easier than ever to see in the night sky. The trick, of course, is knowing when to look.