| | | |
| --- | --- | --- |
| NEW AND IMPROVED: Turn your iPhone or iPod Touch into a field-tested global satellite tracker. The Satellite Flybys app now works in all countries. | | |
SPACE POPULATION EXPLOSION: The population of the International Space Station is about to increase more than fourfold. Currently there are three people onboard the ISS. On April 2nd, the Russian Space Agency will launch a Soyuz spacecraft containing three more. And then on April 5th, space shuttle Discovery will lift off with an additional seven. After the Soyuz and shuttle reach the ISS, there will be 13 people living in space for more than a week, matching the space population record set twice before in March 1995 and July 2009. Thirteen up, 6.8 billion to go....
SOLAR PROMINENCE: Today, amateur astronomers around the world are monitoring a huge prominence rising over the sun's northeastern limb. It's so big, it won't fit in the space provided. Click on the image below to see the entire arch: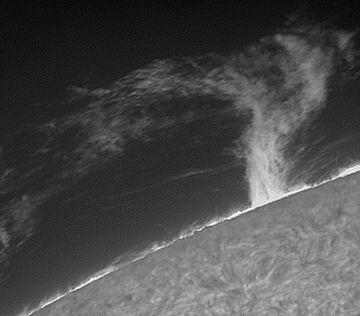 Eric Roel took the picture just hours ago from his backyard observatory in Valle de Bravo, Mexico. Since then, the view has changed. Magnetic fields underpinning this magnificent structure are in a state of fairly rapid motion, pulling the plasma to and fro, offering a different profile to every observer. The whole thing could become unstable and collapse. Readers with solar telescopes are encouraged to monitor developments.
more images: from Andy Devey of Barnsley, South Yorkshire, England; from Cai-Uso Wohler of Bispingen, Germany;
SUNSET PLANETS: If you haven't looked at the sunset recently, you're missing a good show. Mercury and Venus are converging there for a bright conjunction: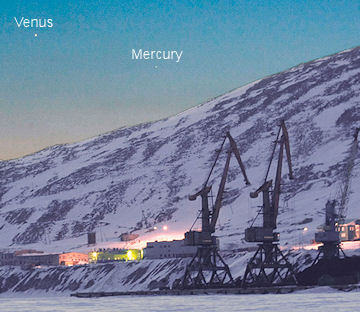 "This is the first time I have seen Mercury," says Anton, who took the picture in Port Provideniya, Chukotka, Russia. "It was very clear and easy to see."
At closest approach on April 3rd and 4th, the two planets will be only three degrees apart--an eye-catching pair. Look before the sky fades to black. Two bright planets framed by deep twilight blue is a beautiful sight indeed. Sky maps: April 3, 4.
more images: from Eduardo Barioni of San Antonio de los Baños, Cuba; from Mahdi Zamani of Qeshm island, Persian gulf, Iran; from Adrian New of San Antonio, Texas; from Jeff Green of Nashville, TN; from Paco Bellido of Córdoba, Spain; from Ramon Lane of Torrevieja, Spain;
---
March Northern Lights Gallery
[previous Marches: 2009, 2008, 2007, 2006, 2005, 2004, 2003]