FAKE ASTRONAUT HIT BY ARTIFICIAL SOLAR FLARE: Researchers are blasting a fake astronaut complete with blood cells and simulated human tissue to an artificial solar flare. How the unlucky volunteer emerges from the radiation storm will reveal for the first time how much of a threat severe solar flares pose to astronauts en route to the Moon and Mars: full story.
VOLCANIC LIGHTNING: On May 19th, adventure photographer Stephen O'Meara was monitoring an eruption of the Rabaul volcano in Papua, New Guinea, when something happened that, he says, "I'll remember for a very long time. A storm cloud approached the volcano's 2 km plume, and lightning began to arc between the two." He set up his camera in a secure location and recorded the "awesome and blinding" spectacle:
This isn't the first time lightning has been observed around a volcano. Recent examples include Alaska's Mt. Redoubt, Chile's Chaitin volcano and Kilauea in Hawaii. Clouds of water vapor shoot out of these volcanoes in a dusty mixture likened to a "dirty thunderstorm," and lightning emerges from within the turbulent plume. Photos: #1, #2.
But O'Meara's photo shows something different. "I observed a placid eruption column apparently interacting with a passing storm center," he says. "It was cloud to cloud lightning." Not much is known about the mechanisms driving volcanic lighting, so his image of this rare interaction may have scientific value.
UPDATE: On June 3rd, O'Meara took his camera to the Kilauea volcano in Hawaii and saw another bright flash of light in the sky--but this time it wasn't lightning. Click here for details.
DAYLIGHT STATION SIGHTING: How bright is the International Space Station? It's so bright, you can now see it in broad daylight. Yesterday, June 4th, Yaron Koler photographed the station framed in blue as it zipped past the Moon in the afternoon skies of Modiin, Israel: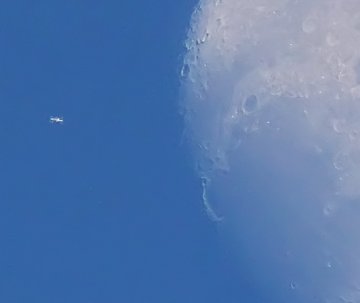 "I used a Canon 500D with a 1.4x Kenko Telephoto Converter Lens," says Koler.
The ISS has been under construction almost continuously for the past 11 years: assembly sequence. The behemoth spacecraft now reflects so much sunlight, it rivals the surface brightness of the Moon in the daytime sky. Sunlight glinting from the station's solar arrays can cause flares as bright as magnitude -8, more than 25 times brighter than Venus!
Now imagine how it looks when the sky is actually dark. Check the Simple Satellite Tracker for nightime flybys of your home town.
---
2009 Noctilucent Photo Gallery
[previous years: 2008, 2007, 2006, 2005, 2004, 2003]
---