KEPLER NIGHT LAUNCH: NASA mission controllers say there is a 95% chance that the Kepler spacecraft will lift off from Cape Canaveral tonight at 10:49 p.m. EST. The spectacular night launch will propel Kepler on a mission to find Earth-like planets around other stars. [updates]
LULIN AND THE BEEHIVE: Tonight, March 5th, Comet Lulin is having a close encounter with the Beehive star cluster. Astrophotographer Doug Zubenel reports from rural Kansas: "I stepped outside around 10 p.m. and discovered to my great delight a big gap in the cirrus clouds with the Comet Lulin right in the middle. A 90-second exposure with my Canon Rebel XTi revealed the star cluster as well."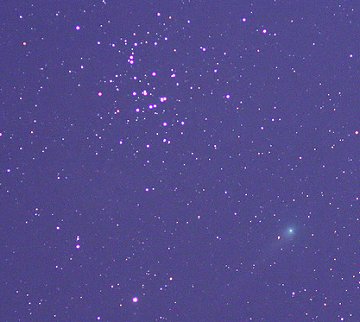 Next, Zubenel pointed his hand-ground 4.25" RFT (rich field telescope) at the gap. "Wow! What a sight it was seeing the bright green atmosphere of Comet Lulin in the same 3.5o field of view as the Beehive Cluster. Even in the bright moonlight, it was a good show."
UPDATED: Comet Lulin Photo Gallery
[Comet Hunter Telescope] [Sky maps: March 5, 6, 7]
MOON HALO ALERT: The Moon is brightening in the evening sky--and that means it's time to be alert for Moon halos. Stuart Heggie of Flesherton, Ontario, saw this one on Wednesday night, March 4th: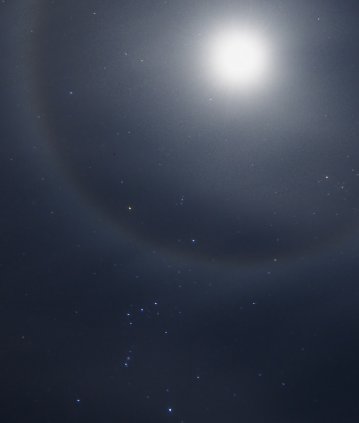 "It was intense," says Heggie. "The halo curving through the bright stars of Orion was stunning to see!"
Moon halos are formed by moonlight passing through ice crystals in high cirrus clouds. Generally speaking, bright Moons produce bright halos, and that's why the nights ahead are a good time to look. The Moon is waxing gibbous, producing plenty of light for icy March clouds to bend as shown.
more images: from Ken Scott of Suttons Bay, Michigan; from Abraham Tamas of Matrei, Austria; from Laurent Laveder of Quimper, Bretagne, France; from Rafael Schmall of Hungary, Somogy, Kaposfo; from Zoltan Goda of Baja, Hungary; from Martin Popek of Nydek, Czech Republic;
---
March 2009 Aurora Gallery
[previous Marches: 2008, 2007, 2006, 2005, 2004, 2003, 2002]
---