| | | |
| --- | --- | --- |
| SATELLITE FLYBYS APP: Turn your iPhone or iPod into a field-tested satellite tracker! Spaceweather.com presents the Satellite Flybys app. | | |
LIFTOFF! Space shuttle Endeavour left Earth this morning at 4:14 am EST, beginning a 13-day mission to the ISS. A bone-rattling roar was heard for miles around as the shuttle lifted off Pad 39A in the final night launch of NASA's shuttle program. With only four shuttle missions left after this one, Endeavour delivered a beautiful parting shot. Launch photos: #1, #2, #3, #4, #5, #6, #7, #8.
RADIO-ACTIVE SUNSPOT: Behemoth sunspot 1045 is crackling with M-class solar flares--and that's not all. "There have been many loud shortwave radio bursts over the past two days," reports amateur radio astronomer Thomas Ashcraft of New Mexico. "Some of the bursts have completely saturated my receivers." Just listen to the sounds coming from the loudspeakers in his observatory. (continued below)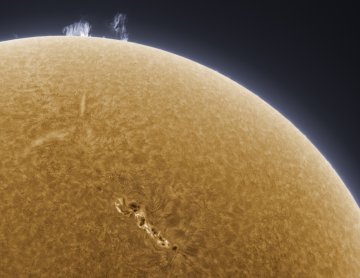 Image credit: Alan Friedman of Buffalo, New York [details]
The roaring sounds you just heard were mainly Type III radio bursts, caused by beams of electrons streaming through the sun's outer atmosphere. Sunspot 1045 appears poised to explosively accelerate more electrons in the days ahead as the flare-show continues. Ham radio operators, point your Yagis toward the sun!
more images: from Mike Borman of Evansville, Indiana; from Rogerio Marcon of Campinas Brasil; from Pete Lawrence of Selsey, West Sussex, UK; from Stefano Sello of Pisa, Italy; from James Kevin Ty of Manila, Philippines; from John Stetson of Portland, Maine; from Steve Riegel of Sanata Maria, CA; from Jo Dahlmans of Ulestraten, The Netherlands;
NORTHERN LIGHTS: "As the solar wind swept over our planet tonight (Feb. 7th), the silent winter landscape with its heavy snow-clad trees made me feel that our place in the solar system must be among the most beautiful," says Fredrik Broms of Kvaløya, Norway. He used a Nikon D3 to record the otherworldly scene: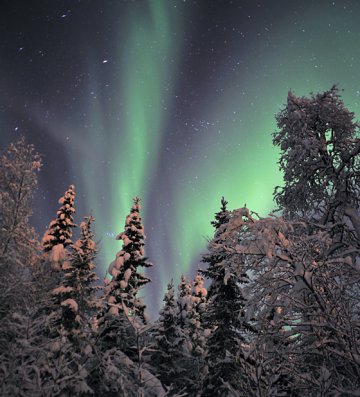 Photo details: Nikon D3, Nikkor 20mm f72.8, 800 ISO, 10-15 sec
Arctic sky watchers should be alert for more auroras in the nights ahead. Sunspot 1045 hurled a CME toward Earth on Feb. 7th and it is due to arrive (along with an unrelated solar wind stream) on Feb. 9th to 10th. NOAA forecasters estimate a 30% chance of high-latitude geomagnetic actvity.
February Northern Lights Gallery
[previous Februarys: 2009, 2008, 2007, 2006, 2004, 2003, 2002]