| | | |
| --- | --- | --- |
| iPHONE VS ANDROID! Actually, it doesn't matter which phone you carry. Our cool, new app turns both smartphones into field-tested satellite trackers. Learn more. | | |
EARLY PERSEID METEORS: The 2010 Perseid meteor shower is underway. "Last night I counted 28 Perseids between 1 am and 4 am--including this bright one zinging past Jupiter," says Pete Glastonbury of Devizes, Wiltshire, UK. Indeed, says Bill Cooke of the MSFC, "the meteor rate is getting so high that last night we captured two Perseid fireballs at the same time using our all-sky camera in Walker County, Georgia. The shower peaks on Thursday, Aug. 12th; these early reports are a promising sign of things to come. [live meteor radar] [2010 meteor counts]
INCOMING CME: The solar eruption of August 7th might affect Earth after all. Newly-arriving data from the Solar and Heliospheric Observatory (SOHO) show a CME heading our way with a significant Earth-directed component. Click on the image to launch a "difference movie" of the expanding cloud: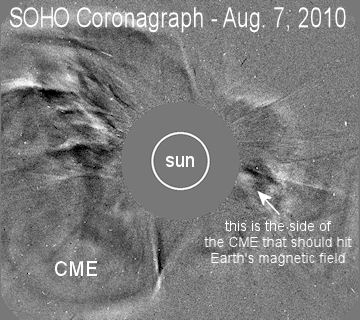 The impact of this lopsided CME probably won't trigger a major geomagnetic storm---but the SOHO data show it could be bigger than expected. High latitude sky watchers should be alert for auroras when the cloud arrives probably on August 10th.
EXTRA! SOLAR RADIO BURSTS: The August 7th flare produced intense radio bursts detectable by ordinary shortwave receivers on Earth. In New Mexico, amateur radio astronomer Thomas Ashcraft picked up strong emissions around 21 MHz. "Listen to some of the sounds than came out of the loudspeakers," he says. "This was a complex flare and very exciting. Yet it is still small stuff compared to what is coming in the future as Solar Cycle 24 intensifies."
SUNSPOT SUNRISE: Active sunspots 1092 and 1093 are both large enough to see without the aid of a solar telescope. On August 7th, M. Raşid Tuğral caught them rising over Ankara, Turkey: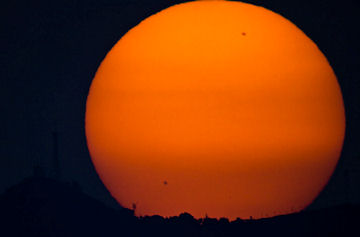 "After staying up all night, I couldn't miss the sunrise," says Tuğral. "I had my camera (a Canon 400D) ready when the sun appeared behind the mountain. I didn't use any filter except thin cirrus clouds. The sunspots were a big suprise for me!"
Caution: Even when dimmed by clouds and haze, direct sunlight can hurt your eyes. If you try to take a picture like Tuğral's, look only at the screen of your digital camera, not the optical viewfinder.
more images: from Aymen Ibrahem of Giza, Egypt; from Fritz Stammberger of Victoria, British Columbia; from Darryl Luscombe of Sointula, British Columbia; from David Hodgson of Courtenay, British Columbia (Vancouver Island); from Rob Newton of Vancouver, British Columbia; from Lyle Anderson of Duluth, MN; from Ron Stansell of Covington, WA
---
August 2010 Northern Lights Gallery
[previous Augusts: 2009, 2008, 2007, 2006, 2005, 2004, 2003]
---
Solar Eclipse Photo Gallery
[NASA: South Pacific Eclipse] [animated map]