The space shuttle is in orbit. We can call you when it's about to fly over your hometown: Spaceweather PHONE.
AURORA SURPRISE: "When I stepped outside last night (Sept. 12), I received a pleasant shock: intense green auroras shining through the clouds," reports Martin McKenna of Maghera, Northern Ireland. There was no particular reason for the display: Solar activity is low and Earth's magnetic field is quiet. Why the green? It must be aurora season.
18 PLANETS: Have you ever heard of the planet Hygea? It's listed in the 1850 Annual of Scientific Discovery along with 17 other planets: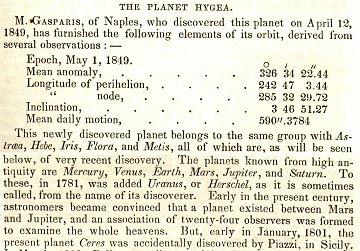 Courtesy Joe Pollock, Appalachian State University. [full text]
In those days, large asteroids such as Hygea, Ceres and Vesta were widely deemed planets. They appeared so in textbooks and scientific journals. Adding asteroids to the other known planets, Mercury, Venus, Earth, Mars, Jupiter, Saturn, Uranus and Neptune, gave a grand total of 18. Imagine the mnemonic: "My Very Educated [insert ten adjectives here] Mother Just Served Us Noodles."
The asteroids were eventually demoted. It was a long, drawn-out affair, marked by decades of disagreement and confusion. (Sound familiar?) By 1900, however, order was restored to the Solar System: the planet count was down to eight.
And then came Pluto...
SUNSPOT 909: To the human eye, the tiny, scattered spots of sunspot group 909 are hardly impressive. But when viewed through a telescope tuned to the red glow of solar hydrogen--wow. "The area is so active with plage that the spots are literally drowning in it," says Camaran Ashraf of Claremont, California. He took this picture yesterday: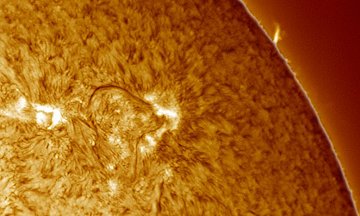 The seething magnetic froth (that's what plage is) does not signal an impending flare, just "a unique visual and photographic opportunity." If you have a solar telescope, take a look.