APOLLO LANDING SITES PHOTOGRAPHED: NASA's Lunar Reconnaissance Orbiter has returned its first imagery of Apollo landing sites. The pictures show lunar module descent stages, scientific instruments and even 40-year-old foot trails made by astronauts walking across the dusty lunar surface: full story.
NLCs INVADE THE USA: On July 15th, a wave of intense noctilucent clouds (NLCs) descended over the continental United States. "They were bright enough to see over the city lights of Seattle," reports Bob Harrington, who has been watching the skies of Washington for 46 years, and "this is only the third time I have seen a display like this."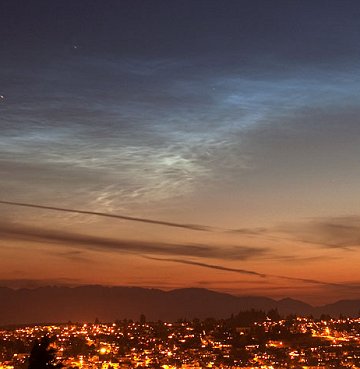 "I was able to eyeball these clouds all the way from the horizon to the zenith," he says. "It was very pretty! ."
Similar reports have poured in from Colorado, Oregon, Montana, Nebraska, Idaho, the Dakotas and northern California. These sightings are significant because they come from places so far south. When noctilucent clouds first appeared in the late 19th century, they were confined to latitudes above 50o N (usually far above). The latitude of the Colorado sighting is only 39° N. No one knows why NLCs are expanding their range; it's one of many unanswered questions about the mysterious clouds.
Sky watchers at all latitudes should be alert for NLCs. Observing tips may be found in the photo gallery:
2009 Noctilucent Photo Gallery
[previous years: 2008, 2007, 2006, 2005, 2004, 2003]
MAN-MADE NLCs: On July 15th, Nature provided a grand display of noctilucent clouds stretching from Scandinavia to Colorado. At the same time, NASA provided a miniature display of its own over Florida: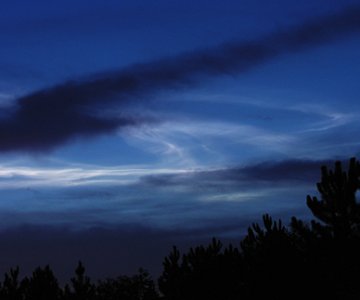 "We saw some brilliant night-shining clouds here in Florida," reports Martin Zloty of Land O'Lakes, just north of Tampa. "They appeared about three hours after space shuttle Endeavour launched on its mission to the International Space Station."
Indeed, Endeavour was the source of the clouds. The space shuttle's hydrogen-burning main engines spew tons of water vapor into the atmosphere during their ascent to space. When the shuttle reaches an altitude of 60 to 70 km, the water vapor turns into super-tiny ice crystals that glow electric blue when illuminated by the setting sun. It looks much like a noctilucent cloud and in a sense it is, created by man rather than Nature. A movie from researchers at Hampton University shows the process in action.
more images: from Fendell Pillsbury of Sarasota, Florida
---