| | | |
| --- | --- | --- |
| Marianne's Arctic tours: Operating in small groups of 7 to 14 persons--all needs supplied for safety, comfort and pleasure. Night & day photography or non-photographic landscape - wildlife tours. Click for details! | | |
SUNSPOT ALERT: A small sunspot is emerging in the sun's northern hemisphere, right here. Its magnetic polarity marks it as a member of new Solar Cycle 25. If it continues to develop and lasts long enough to be officially numbered, it would be the 4th new-cycle sunspot this year--another sign that Solar Minimum won't last forever. Aurora alerts: SMS Text.

COMET ATLAS IS BRIGHTENING FASTER THAN EXPECTED: Get ready for a wild ride. Comet ATLAS (C2019 Y4) is plunging toward the sun and, if it doesn't fly apart first, it could become one of the brightest comets in years.
"Comet ATLAS continues to brighten much faster than expected," says Karl Battams of the Naval Research Lab in Washington DC. "Some predictions for its peak brightness now border on the absurd."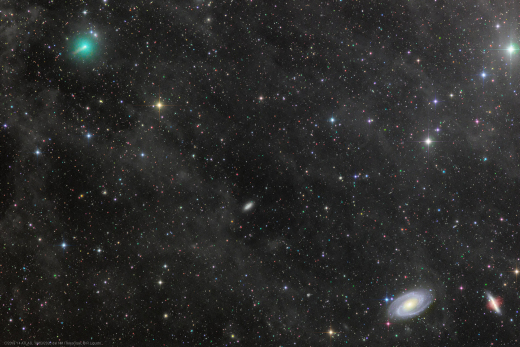 Above: Comet Atlas (upper left) glides by spiral galaxy M81 on March 18th. Credit: Rolando Ligustri [more]
The comet was discovered in December 2019 by the Asteroid Terrestrial-impact Last Alert System (ATLAS) in Hawaii. Astronomers quickly realized it might be special. On May 31, 2020, Comet ATLAS will pass deep inside the orbit of Mercury only 0.25 AU from the sun. If it can survive the blast furnace of solar heating, it could put on a good show.
However, no one expected the show to start this soon. More than 2 months before perihelion (closest approach to the sun), Comet ATLAS is already "heating up." The worldwide Comet Observation Database shows it jumping from magnitude +17 in early February to +8 in mid-March–a 4000-fold increase in brightness. It could become visible to the naked eye in early April.
"Right now the comet is releasing huge amounts of its frozen volatiles (gases)," says Battams. "That's why it's brightening so fast."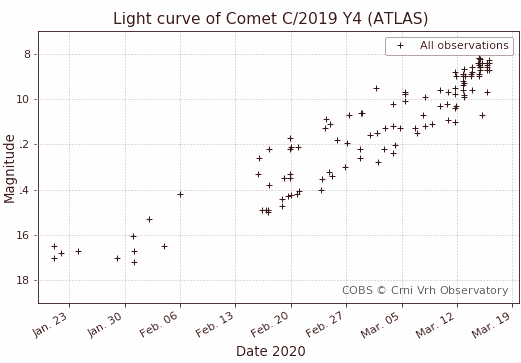 Can ATLAS sustain this crazy pace? If it has a big nucleus w ith large stores of frozen gas, then yes; we could get a very bright comet. Otherwise, Comet ATLAS might run out of gas, crumbling and fading as it approaches the sun.
Current best estimates of the comet's peak brightness in May range from magnitude +1 to -5. If Comet ATLAS hits the high end of that range, a bit brighter than Venus, it could become visible in broad daylight.
Comet McNaught (C/2006 P1) performed that very trick 13 years ago. On Jan. 13, 2007, it swooped past the sun shining at magnitude -5. The absurdly-bright comet was visible at high noon with its tail jutting across blue sky: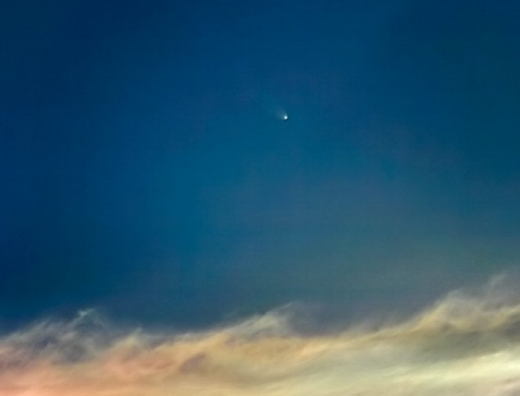 Above: Comet McNaught in broad daylight on Jan. 13, 2007. Photo credit: Peter Rosen. [more]
Battams is not optimistic, though: "My personal intuition is that Comet ATLAS is over-achieving, and I wouldn't be surprised to see it fade rapidly and possibly even disintegrate before reaching the sun," he says.
Come to think of it, that would be a good show, too. Fortunately, NASA has spacecraft with cameras that specialize in seeing things close to the sun.
"The Heliospheric Imager on NASA's STEREO spacecraft will get a great view of ATLAS from mid-May through early June," says Battams. "The camera is very sensitive, so we might be able to observe ATLAS's tail interacting with the solar wind and outflows–as well as any potential breakup events."
Stay tuned!

Realtime Space Weather Photo Gallery
Free: Spaceweather.com Newsletter

MR. SPOCK BOBBLEHEAD IN THE STRATOSPHERE: If you would like to support the Earth to Sky Calculus cosmic ray ballooning program, there's a logical way to do it. Puchase this Mr. Spock collector's item. Here is the green-blooded science officer floating 32.2 km (112,200 ft) above Death Valley National Park in central California: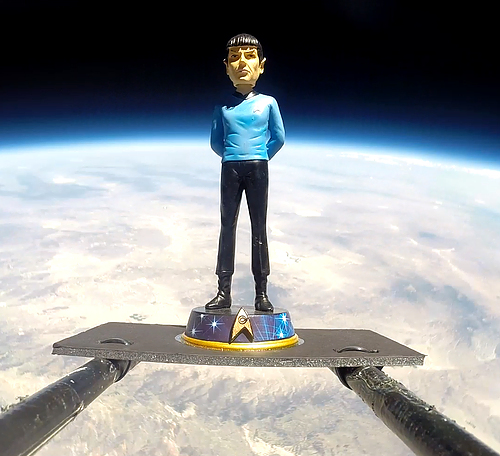 You can have him for $170.10. The price, in case you're wondering, is the serial number of the Enterprise, NGC1701, divided by 10. The students are selling Spock to buy more helium! He comes with a greeting card showing the high-quality resin bobblehead in flight and telling the story of his journey to the stratosphere and back again.
Far Out Gifts: Earth to Sky Store
All sales support hands-on STEM education
HIGH-RESOLUTION SPACE STATION: Amateur astronomer Philip Smith long ago established himself as one of the world's finest photographers of the International Space Station (ISS). Whenever the ISS zips over his backyard in Manorville, New York, Smith is usually outside waiting to SNAP! a high-resolution image. On March 12th he outdid even his own high standards: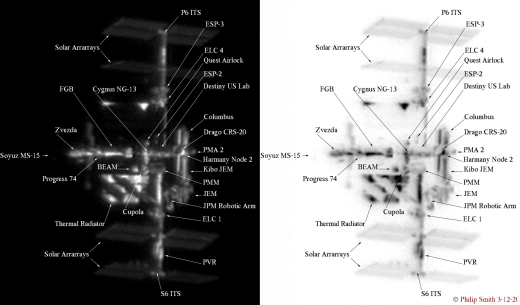 "I've presented the image as both positive and negative to improve visibility of some components," says Smith, who used a heavily instrumented 14-inch telescope, its clock drive whirring rapidly to keep up with the fast-moving spaceship. This video shows how the viewing angle changed as his optics tracked the ISS across the sky.
Smith has labeled more than 2 dozen modules and sub-systems of the ISS--some of them as small as a few meters across (e.g., the Cupola). Also shown are no fewer than 4 docked spaceships: SpaceX's Dragon CRS-20, Northrop Grumman's Cygnus NG-13 cargo ship, and Russia's Soyuz MS-15 and Progress 74 vessels. It's busy up there! And it's busy in some New York backyards. Browse the Spaceweather Photo Gallery for more of Smith's images.

Realtime Space Weather Photo Gallery
Free: Spaceweather.com Newsletter
---
Realtime Aurora Photo Gallery
Free: Spaceweather.com Newsletter

Every night, a network of
NASA all-sky cameras
scans the skies above the United States for meteoritic fireballs. Automated software maintained by NASA's Meteoroid Environment Office calculates their orbits, velocity, penetration depth in Earth's atmosphere and many other characteristics. Daily results are presented here on Spaceweather.com.
On Mar. 18, 2020, the network reported 7 fireballs.
(7 sporadics)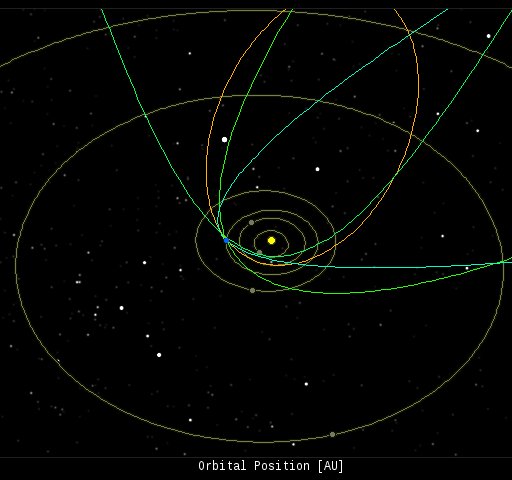 In this diagram of the inner solar system, all of the fireball orbits intersect at a single point--Earth. The orbits are color-coded by velocity, from slow (red) to fast (blue). [Larger image] [movies]
Potentially Hazardous Asteroids (
PHAs
) are space rocks larger than approximately 100m that can come closer to Earth than 0.05 AU. None of the known PHAs is on a collision course with our planet, although astronomers are finding
new ones
all the time.
On March 18, 2020 there were
2018
potentially hazardous asteroids.

Recent & Upcoming Earth-asteroid encounters:
Asteroid

Date(UT)

Miss Distance

Velocity (km/s)

Diameter (m)

2020 FM1

2020-Mar-13

1.3 LD

7.3

5

2020 EQ

2020-Mar-13

1.5 LD

8.9

5

2020 FO

2020-Mar-14

11.8 LD

20

23

2020 FK1

2020-Mar-15

1.5 LD

5.2

12

2018 GY

2020-Mar-15

6.2 LD

9.5

39

2020 FU

2020-Mar-16

11.7 LD

15.6

19

2020 FL

2020-Mar-16

5.5 LD

11.6

40

2020 ET

2020-Mar-17

7.8 LD

7.6

25

2020 FD

2020-Mar-18

0.7 LD

15.6

10

2020 FH

2020-Mar-18

6.1 LD

9.4

21

2020 FG

2020-Mar-18

1.4 LD

15

9

2020 FW

2020-Mar-18

8.6 LD

10.2

17

2020 EF

2020-Mar-19

16.6 LD

4.5

18

2020 FN

2020-Mar-19

4.7 LD

6.9

11

2020 FK

2020-Mar-21

3.6 LD

10.5

8

2020 FS

2020-Mar-21

8.2 LD

4.3

10

2020 DP4

2020-Mar-22

3.5 LD

8.1

32

2020 FF1

2020-Mar-22

1.9 LD

12.9

9

2020 FF

2020-Mar-24

15.9 LD

5.6

15

2020 FB

2020-Mar-25

8.6 LD

4.7

32

2020 FP

2020-Mar-27

14.7 LD

9.5

24

2012 XA133

2020-Mar-27

17.4 LD

23.7

235

2010 GD35

2020-Mar-29

15.3 LD

12

43

2006 FH36

2020-Mar-30

11.3 LD

5.1

93

2020 FB1

2020-Mar-30

19 LD

10.5

28

2020 FA1

2020-Mar-31

18.3 LD

2.2

17

2019 GM1

2020-Apr-02

9 LD

4.2

14

2015 FC35

2020-Apr-04

10.5 LD

13.8

148

2020 DT3

2020-Apr-05

17.6 LD

11.8

193

2019 HM

2020-Apr-10

7.2 LD

3.2

23

363599

2020-Apr-11

19.2 LD

24.5

224

2019 HS2

2020-Apr-26

13.6 LD

12.6

17

2019 GF1

2020-Apr-27

18.7 LD

3.2

12

52768

2020-Apr-29

16.4 LD

8.7

2457

2020 DM4

2020-May-01

18.4 LD

6.4

162

438908

2020-May-07

8.9 LD

12.8

282

2016 HP6

2020-May-07

4.3 LD

5.7

31

388945

2020-May-10

7.3 LD

8.8

295

2000 KA

2020-May-12

8.9 LD

13.5

162

478784

2020-May-15

8.5 LD

3.6

28

Notes: LD means "Lunar Distance." 1 LD = 384,401 km, the distance between Earth and the Moon. 1 LD also equals 0.00256 AU. MAG is the visual magnitude of the asteroid on the date of closest approach.

| | |
| --- | --- |
| | Cosmic Rays in the Atmosphere |

SOMETHING NEW! We have developed a new predictive model of aviation radiation. It's called E-RAD--short for Empirical RADiation model. We are constantly flying radiation sensors onboard airplanes over the US and and around the world, so far collecting more than 22,000 gps-tagged radiation measurements. Using this unique dataset, we can predict the dosage on any flight over the USA with an error no worse than 15%.

E-RAD lets us do something new: Every day we monitor approximately 1400 flights criss-crossing the 10 busiest routes in the continental USA. Typically, this includes more than 80,000 passengers per day. E-RAD calculates the radiation exposure for every single flight.

The Hot Flights Table is a daily summary of these calculations. It shows the 5 charter flights with the highest dose rates; the 5 commercial flights with the highest dose rates; 5 commercial flights with near-average dose rates; and the 5 commercial flights with the lowest dose rates. Passengers typically experience dose rates that are 20 to 70 times higher than natural radiation at sea level.

To measure radiation on airplanes, we use the same sensors we fly to the stratosphere onboard Earth to Sky Calculus cosmic ray balloons: neutron bubble chambers and X-ray/gamma-ray Geiger tubes sensitive to energies between 10 keV and 20 MeV. These energies span the range of medical X-ray machines and airport security scanners.

Column definitions: (1) The flight number; (2) The maximum dose rate during the flight, expressed in units of natural radiation at sea level; (3) The maximum altitude of the plane in feet above sea level; (4) Departure city; (5) Arrival city; (6) Duration of the flight.

SPACE WEATHER BALLOON DATA: Approximately once a week, Spaceweather.com and the students of Earth to Sky Calculus fly space weather balloons to the stratosphere over California. These balloons are equipped with radiation sensors that detect cosmic rays, a surprisingly "down to Earth" form of space weather. Cosmic rays can seed clouds, trigger lightning, and penetrate commercial airplanes. Furthermore, there are studies ( #1, #2, #3, #4) linking cosmic rays with cardiac arrhythmias and sudden cardiac death in the general population. Our latest measurements show that cosmic rays are intensifying, with an increase of more than 18% since 2015:

The data points in the graph above correspond to the peak of the Regener-Pfotzer maximum, which lies about 67,000 feet above central California. When cosmic rays crash into Earth's atmosphere, they produce a spray of secondary particles that is most intense at the entrance to the stratosphere. Physicists Eric Reneger and Georg Pfotzer discovered the maximum using balloons in the 1930s and it is what we are measuring today.

En route to the stratosphere, our sensors also pass through aviation altitudes:

In this plot, dose rates are expessed as multiples of sea level. For instance, we see that boarding a plane that flies at 25,000 feet exposes passengers to dose rates ~10x higher than sea level. At 40,000 feet, the multiplier is closer to 50x.

The radiation sensors onboard our helium balloons detect X-rays and gamma-rays in the energy range 10 keV to 20 MeV. These energies span the range of medical X-ray machines and airport security scanners.

Why are cosmic rays intensifying? The main reason is the sun. Solar storm clouds such as coronal mass ejections (CMEs) sweep aside cosmic rays when they pass by Earth. During Solar Maximum, CMEs are abundant and cosmic rays are held at bay. Now, however, the solar cycle is swinging toward Solar Minimum, allowing cosmic rays to return. Another reason could be the weakening of Earth's magnetic field, which helps protect us from deep-space radiation.

| | |
| --- | --- |
| | The official U.S. government space weather bureau |

| | |
| --- | --- |
| | The first place to look for information about sundogs, pillars, rainbows and related phenomena. |

| | |
| --- | --- |
| | Researchers call it a "Hubble for the sun." SDO is the most advanced solar observatory ever. |

| | |
| --- | --- |
| | 3D views of the sun from NASA's Solar and Terrestrial Relations Observatory |

| | |
| --- | --- |
| | Realtime and archival images of the Sun from SOHO. |

| | |
| --- | --- |
| | from the NOAA Space Environment Center |

| | |
| --- | --- |
| | fun to read, but should be taken with a grain of salt! Forecasts looking ahead more than a few days are often wrong. |

| | |
| --- | --- |
| | from the NOAA Space Environment Center |

| | |
| --- | --- |
| | the underlying science of space weather |

To find reviews of new online casino sites in the UK try The Casino DB where there are hundreds of online casino reviews complete with bonuses and ratings.

Get a bonus when playing at a new casino in the UK. The Genie got you covered! 

Looking for a new online casino? Try Casimpo the new site dedicated to making online casino simple and easy for all.

| | |
| --- | --- |
| | These links help Spaceweather.com stay online. Thank you to our supporters! |