| | | |
| --- | --- | --- |
| FLYBY ALERT! Space shuttle Discovery launches on May 31st. Get your flyby alerts from Space Weather PHONE | | |
TWIST AND SHOOT: Last week, over a period of two days (May 9th and 10th), NASA's Stereo-B spacecraft observed a troupe of magnetic filaments dancing along on the limb of the sun. For reasons that will become clear when you watch the performance, mission scientists have entitled the movie Twist and Shoot: 4.4 MB Quicktime, 8.1 MB mpeg.
ISS MARATHON: The 2008 "ISS Marathon" gets underway this week when the International Space Station spends three days (May 21-23) in almost-constant sunlight. Sky watchers in Europe and North America can see the bright spaceship gliding overhead two to four times each night. Please try our new and improved Simple Satellite Tracker to find out when to look.
The station is not only bright and easy to see with the naked eye, but also it makes a fine target for backyard telescopes: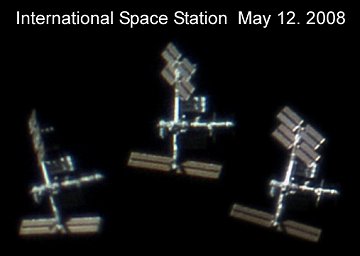 Click to the view the 0.9 MB movie
"I took these pictures during the early morning hours of May 12th using a 5-inch refracting telescope." says amateur astronomer Dirk Ewers of Hofgeismar, Germany. For five minutes, he tracked the ISS across the sky and his movie of the entire 75o transit is a must see.
3D BONUS: Grab your 3D glasses. Spaceweather reader Sylvain Weiller of France has combined two frames of Dirk Ewer's movie to create a stereo view of the space station. If you don't have 3D glasses, try the cross-eyed version instead.
HALE'S LAW: On the sun this weekend, "four new active regions have appeared for us to look at in awe and wonderment," reports Stephen Ames of Hodgenville, Kentucky, who sends this sketch of the view through his Coronado PST. Each "active region" is a small sunspot or proto-sunspot struggling to coelesce.
Because these regions straddle the sun's equator, they nicely illustrate a basic law of sunspots: Hale's Law states that sunspots on opposite sides of the sun's equator have opposite magnetic polarity. Consider this magnetic map made by the Solar and Heliospheric Observatory (SOHO) on May 17th: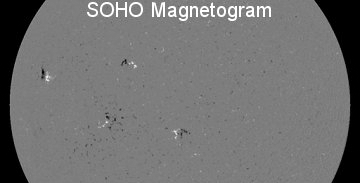 White represents N magnetic polarity; black represents S.
Sunspots are essentially magnetic, and each spot has its own "personal" north and south magnetic pole. Above the sun's equator, the poles are arranged S-N; below the sun's equator, they are reversed, N-S. That's Hale's Law, named after George Ellery Hale, who studied the magnetism of sunspots in the early 20th century.
more images: from Matthias Juergens of Gnevsdorf, Germany; from Pavol Rapavy of Rimavska Sobota, Slovakia; from Michael Borman of Evansville, Indiana; from Peter Paice of Belfast, Northern Ireland;
---
April 2008 Aurora Gallery
[Aurora Alerts] [Night-sky Cameras]