| | | |
| --- | --- | --- |
| Safe aurora tours: Thinking of a visit to Norway? Marianne's Heaven on Earth Aurora Tours has a 7-seater minivan for families who don't require social distancing. See the Northern Lights or take a scenic day tour. Book here | | |
THE SUN IS STRANGELY SPOTLESS: If Solar Cycle 25 has begun, then why is the sun so quiet? The solar disk has been blank--zero sunspots--for 28 straight days; and we haven't had a significant solar flare in more than a month. Strange? It only seems that way. The early months of new solar cycles are often interrupted by quiet spells, sometimes long ones. Solar Minimum doesn't give up easily, although, eventually, it will give up. Stay tuned. Aurora alerts: SMS text.
WILDFIRE THREATENS MT. WILSON: Astronomers are worried about Mt. Wilson Observatory, and this photo shows why. Last night, an automated webcam caught flames exploding from a hillside just below the 150-ft tall Solar Tower: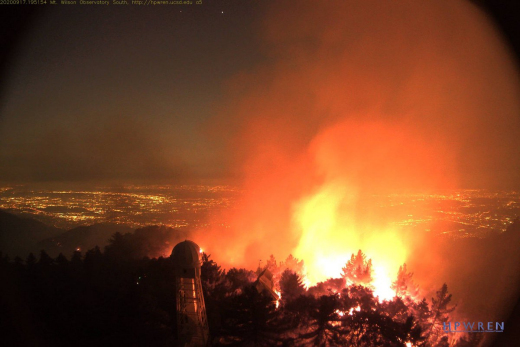 Photo Credit: High Performance Wireless Research and Education Network
The Bobcat Fire, which erupted on Sept. 6th in the Angeles National Forest, is out of control and threatening the historic observatory. On Tuesday afternoon, the blaze was within 500 feet of the facility. Firefighters saved it using a variety of tactics, including carving out lines by hand and with bulldozers, setting strategic backfires (indeed, the photo above might be a backfire), and dropping water from airplanes. After two harrowing nights of firefighting, the observatory still stands.

The impact of Mt. Wilson on astronomy can hardly be overstated. Edwin Hubble used the 100-in telescope, the largest telescope in the world from 1917 to 1949, to discover that the Universe is expanding. Fritz Zwicky found evidence for dark matter. And, working with the observatory's solar towers, George Ellery Hale showed that sunspots were giant islands of magnetism floating on the surface of the sun.
The observatory is still in peril. Best wishes to the firefighters who are working so hard to save it.
Realtime Space Weather Photo Gallery
Free: Spaceweather.com Newsletter

SPACE PLANE GLIDES BY VENUS: Did you know, there's a space plane orbiting Earth? It's the US Air Force's Boeing X-37 mini-shuttle. Kevin Fetter of Brockville, Ontario, video-recorded it last night passing by the planet Venus:
"The other satellite in the video is SAOCOM 1-B which passed above Venus," says Fetter.
The X-37 is a semi-secret robotic spacecraft with resembles NASA's old space shuttle. In fact, it started as a NASA project in 1999 before being transferred to the United States Department of Defense in 2004. The X-37 has been orbiting Earth off and on since April 2010, with some flights lasting as long as 780 days in orbit. The latest mission, the sixth, launched on an Atlas V rocket on May 17, 2020.
Earlier this month, China launched its own space plane, apparently to keep up with the X-37. The Chinese version also resembles NASA's retired space shuttle. It completed its first test flight, a 2-day trip into low-Earth orbit, on Sept. 6th when it landed somewhere in China.
Realtime Space Weather Photo Gallery
Free: Spaceweather.com Newsletter
INFINITY BLACK PEARL: It came from Tahiti--and now it's been to the edge of space. On April 15, 2020, this genuine Black Tahitian South Sea Cultured Pearl flew to the stratosphere onboard an Earth to Sky Calculus cosmic ray balloon, soaring 107,611 feet above the Sierra Nevada mountains of central California: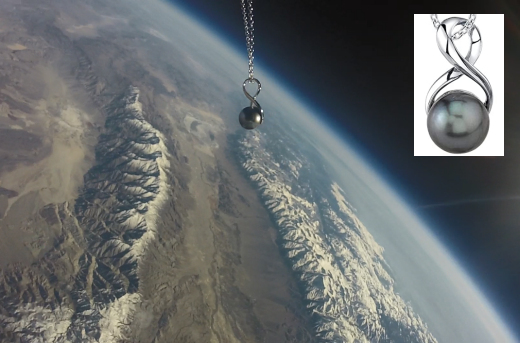 You can have it for $249.95. The students of Earth to Sky Calculus are selling these exotic space pearls to fund their cosmic ray monitoring program.
Measuring 8 mm in diameter, the pearl is mounted on a 925 sterling silver infinity twist and suspended on a matching 17 inch long sterling silver chain. Each pearl comes with a greeting card showing the pendant in flight and telling the story of its journey to the edge of space.
Far Out Gifts: Earth to Sky Store
All sales support hands-on STEM education
---
Realtime Aurora Photo Gallery
Free: Spaceweather.com Newsletter
---
Realtime Mars Photo Gallery
Free: Spaceweather.com Newsletter
---
Every night, a network of
NASA all-sky cameras
scans the skies above the United States for meteoritic fireballs. Automated software maintained by NASA's Meteoroid Environment Office calculates their orbits, velocity, penetration depth in Earth's atmosphere and many other characteristics. Daily results are presented here on Spaceweather.com.
On Sept. 18, 2020, the network reported 34 fireballs.
(34 sporadics)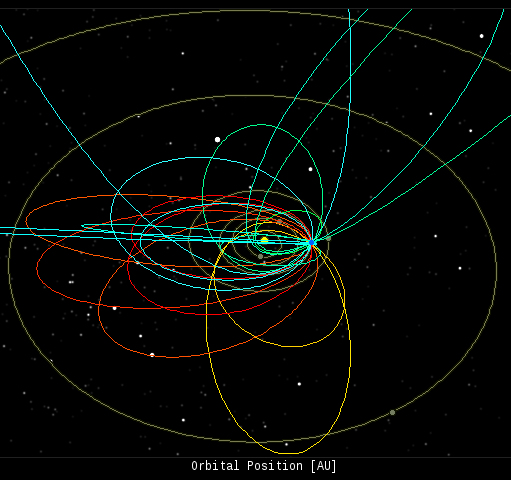 In this diagram of the inner solar system, all of the fireball orbits intersect at a single point--Earth. The orbits are color-coded by velocity, from slow (red) to fast (blue). [Larger image] [movies]
Potentially Hazardous Asteroids (
PHAs
) are space rocks larger than approximately 100m that can come closer to Earth than 0.05 AU. None of the known PHAs is on a collision course with our planet, although astronomers are finding
new ones
all the time.
On September 18, 2020 there were
2037
potentially hazardous asteroids.

Recent & Upcoming Earth-asteroid encounters:
Asteroid

Date(UT)

Miss Distance

Velocity (km/s)

Diameter (m)

2020 RB1

2020-Sep-13

11.7 LD

7.7

16

2020 RF6

2020-Sep-13

18.9 LD

17

74

2020 RL1

2020-Sep-13

5.2 LD

4.8

15

2020 RH2

2020-Sep-13

8.6 LD

8.9

15

2017 US

2020-Sep-13

17.3 LD

5.9

21

2020 RW7

2020-Sep-14

1.2 LD

7.7

34

2020 RF3

2020-Sep-14

0.2 LD

17.2

7

2020 RW6

2020-Sep-14

12.6 LD

13.1

66

2020 QL2

2020-Sep-14

17.9 LD

10.6

69

2020 RD4

2020-Sep-14

0.3 LD

10.2

4

2020 SC

2020-Sep-15

1.3 LD

21.9

16

2020 RA4

2020-Sep-15

11.3 LD

9

15

2020 RJ2

2020-Sep-16

3.5 LD

3.9

5

2020 RW3

2020-Sep-16

6.7 LD

12

20

2020 RN1

2020-Sep-17

18.5 LD

9.8

32

2020 RZ6

2020-Sep-17

0.9 LD

8.7

16

2014 QJ33

2020-Sep-17

6.7 LD

8.7

65

2020 RA6

2020-Sep-18

1.4 LD

17.4

23

2020 RC7

2020-Sep-18

15.5 LD

8.4

23

2020 RB7

2020-Sep-18

1.4 LD

19

12

2020 RH6

2020-Sep-19

12.4 LD

8.3

36

2020 RQ3

2020-Sep-19

6.2 LD

25.4

32

2017 SL16

2020-Sep-20

8.9 LD

6.4

25

2020 RP6

2020-Sep-20

19.1 LD

8

36

2020 RY7

2020-Sep-20

2.6 LD

20.6

15

2020 RQ6

2020-Sep-21

3.4 LD

6.5

11

2020 RD5

2020-Sep-22

10.6 LD

17.2

52

2020 RB6

2020-Sep-22

6.7 LD

19.8

29

2020 RU7

2020-Sep-22

15.3 LD

6.3

30

2020 RE8

2020-Sep-23

18.1 LD

10.6

31

2020 RA2

2020-Sep-23

18.4 LD

5.4

22

2020 RO

2020-Sep-25

15.3 LD

11.8

78

2020 RF4

2020-Sep-26

11.7 LD

13.8

43

2020 RF5

2020-Sep-27

14.1 LD

3.9

54

2020 PM7

2020-Sep-29

7.5 LD

8.3

122

2020 RJ3

2020-Oct-01

15.3 LD

15.5

67

2001 GP2

2020-Oct-01

6.1 LD

2.2

15

2020 RZ3

2020-Oct-02

15.7 LD

13.3

35

2010 UC

2020-Oct-04

14.6 LD

3.2

12

2020 RV2

2020-Oct-05

14.9 LD

4.2

25

2020 RR2

2020-Oct-06

16.3 LD

4.1

29

2020 RK2

2020-Oct-07

10.1 LD

6.7

49

2019 SB6

2020-Oct-07

11.9 LD

7.6

16

2020 RO1

2020-Oct-09

17.4 LD

3.2

30

2018 GD2

2020-Oct-13

16.4 LD

6.7

5

2020 RM6

2020-Oct-15

13.1 LD

7.8

38

2017 UH5

2020-Oct-20

8.9 LD

5.9

18

2018 VG

2020-Oct-21

15.1 LD

6.7

12

2017 TK6

2020-Oct-24

17.3 LD

12.4

41

2008 GM2

2020-Oct-25

17.7 LD

3.6

8

2020 QD5

2020-Oct-26

10.1 LD

8.6

80

2020 OK5

2020-Oct-29

6.4 LD

1.3

27

2018 VP1

2020-Nov-02

1.1 LD

9.7

2

2020 HF4

2020-Nov-03

16.2 LD

2.9

11

2010 JL88

2020-Nov-05

10.5 LD

15.7

16

2019 XS

2020-Nov-07

15.4 LD

9.4

51

2018 VS4

2020-Nov-09

14.9 LD

10.1

25

2019 VL5

2020-Nov-15

8.5 LD

8.2

23

Notes: LD means "Lunar Distance." 1 LD = 384,401 km, the distance between Earth and the Moon. 1 LD also equals 0.00256 AU. MAG is the visual magnitude of the asteroid on the date of closest approach.

| | |
| --- | --- |
| | Cosmic Rays in the Atmosphere |

SOMETHING NEW! We have developed a new predictive model of aviation radiation. It's called E-RAD--short for Empirical RADiation model. We are constantly flying radiation sensors onboard airplanes over the US and and around the world, so far collecting more than 22,000 gps-tagged radiation measurements. Using this unique dataset, we can predict the dosage on any flight over the USA with an error no worse than 15%.

E-RAD lets us do something new: Every day we monitor approximately 1400 flights criss-crossing the 10 busiest routes in the continental USA. Typically, this includes more than 80,000 passengers per day. E-RAD calculates the radiation exposure for every single flight.

The Hot Flights Table is a daily summary of these calculations. It shows the 5 charter flights with the highest dose rates; the 5 commercial flights with the highest dose rates; 5 commercial flights with near-average dose rates; and the 5 commercial flights with the lowest dose rates. Passengers typically experience dose rates that are 20 to 70 times higher than natural radiation at sea level.

To measure radiation on airplanes, we use the same sensors we fly to the stratosphere onboard Earth to Sky Calculus cosmic ray balloons: neutron bubble chambers and X-ray/gamma-ray Geiger tubes sensitive to energies between 10 keV and 20 MeV. These energies span the range of medical X-ray machines and airport security scanners.

Column definitions: (1) The flight number; (2) The maximum dose rate during the flight, expressed in units of natural radiation at sea level; (3) The maximum altitude of the plane in feet above sea level; (4) Departure city; (5) Arrival city; (6) Duration of the flight.

SPACE WEATHER BALLOON DATA: Approximately once a week, Spaceweather.com and the students of Earth to Sky Calculus fly space weather balloons to the stratosphere over California. These balloons are equipped with radiation sensors that detect cosmic rays, a surprisingly "down to Earth" form of space weather. Cosmic rays can seed clouds, trigger lightning, and penetrate commercial airplanes. Furthermore, there are studies ( #1, #2, #3, #4) linking cosmic rays with cardiac arrhythmias and sudden cardiac death in the general population. Our latest measurements show that cosmic rays are intensifying, with an increase of more than 18% since 2015:

The data points in the graph above correspond to the peak of the Regener-Pfotzer maximum, which lies about 67,000 feet above central California. When cosmic rays crash into Earth's atmosphere, they produce a spray of secondary particles that is most intense at the entrance to the stratosphere. Physicists Eric Reneger and Georg Pfotzer discovered the maximum using balloons in the 1930s and it is what we are measuring today.

En route to the stratosphere, our sensors also pass through aviation altitudes:

In this plot, dose rates are expessed as multiples of sea level. For instance, we see that boarding a plane that flies at 25,000 feet exposes passengers to dose rates ~10x higher than sea level. At 40,000 feet, the multiplier is closer to 50x.

The radiation sensors onboard our helium balloons detect X-rays and gamma-rays in the energy range 10 keV to 20 MeV. These energies span the range of medical X-ray machines and airport security scanners.

Why are cosmic rays intensifying? The main reason is the sun. Solar storm clouds such as coronal mass ejections (CMEs) sweep aside cosmic rays when they pass by Earth. During Solar Maximum, CMEs are abundant and cosmic rays are held at bay. Now, however, the solar cycle is swinging toward Solar Minimum, allowing cosmic rays to return. Another reason could be the weakening of Earth's magnetic field, which helps protect us from deep-space radiation.

| | |
| --- | --- |
| | The official U.S. government space weather bureau |

| | |
| --- | --- |
| | The first place to look for information about sundogs, pillars, rainbows and related phenomena. |

| | |
| --- | --- |
| | Researchers call it a "Hubble for the sun." SDO is the most advanced solar observatory ever. |

| | |
| --- | --- |
| | 3D views of the sun from NASA's Solar and Terrestrial Relations Observatory |

| | |
| --- | --- |
| | Realtime and archival images of the Sun from SOHO. |

| | |
| --- | --- |
| | from the NOAA Space Environment Center |

| | |
| --- | --- |
| | fun to read, but should be taken with a grain of salt! Forecasts looking ahead more than a few days are often wrong. |

| | |
| --- | --- |
| | from the NOAA Space Environment Center |

| | |
| --- | --- |
| | the underlying science of space weather |

To find reviews of new online casino sites in the UK try The Casino DB where there are hundreds of online casino reviews complete with bonuses and ratings.

Get a bonus when playing at a new casino in the UK. The Genie got you covered! 

Looking for a new online casino? Try Casimpo the new site dedicated to making online casino simple, or check out the new Avenger Slots Casino and Slot Strike Casino Sites with over 500 online slots and casino games. .

| | |
| --- | --- |
| | These links help Spaceweather.com stay online. Thank you to our supporters! |