| | | |
| --- | --- | --- |
| Marianne's Arctic tours: Operating in small groups of 7 to 14 persons--all needs supplied for safety, comfort and pleasure. Night & day photography or non-photographic landscape - wildlife tours. Click for details! | | |
CHANCE OF MAGNETIC STORMS: NOAA forecasters say there is a chance of minor G1-class geomagnetic storms on Nov. 21st when a fast moving stream of solar wind hits Earth's magnetic field. The gaseous material is flowing from a ragged hole in the sun's atmosphere. This hole has strobed Earth with solar wind on four previous occasions and each time sparked a storm of G1-class or stronger. Aurora alerts: SMS Text.
A METEOR OUTBURST IS POSSIBLE THIS WEEK: Get ready for a meteor outburst--maybe. On Nov. 21-22, Earth will pass by a stream of dusty debris from an unknown comet. Forecasters Esko Lyytinen (Finnish Fireball Network) and Peter Jenniskens (NASA/Ames) believe this could cause an outburst of alpha Monocerotid meteors. Jenniskens witnessed a previous outburst in 1995: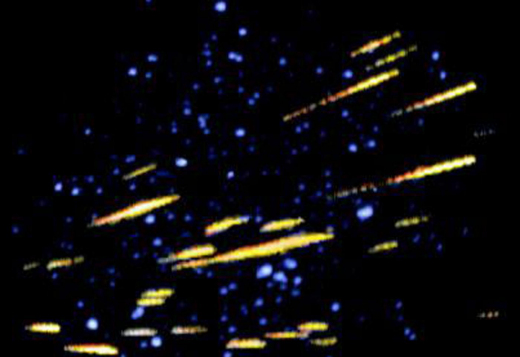 "This is a composite of alpha Monocerotids detected in low-light video observations by Sirko Molau in Germany during the 1995 outburst," says Jenniskens. "Most of the meteors ranged in magnitude from +2 to +0."
No one knows exactly where alpha Monocerotid meteors come from. The parent comet has never been seen. Based on the dynamics of its debris, it probably circles the sun every 500 years or so. We know the comet exists only because of the narrow trail of dust it left behind long ago. Earth has run into the dust trail at least 4 times, causing bright outbursts of meteors in 1925, 1935, 1985 and 1995.

Lyytinen and Jenniskens recently realized that in 2019 Earth would pass about as close to the debris as it did in 1995--and so they issued this alert. The outburst is expected around 04:50 UT on Nov. 22nd (11:50 p.m. EST on Nov. 21st). Because the debris zone is narrow (only ~50,000 km wide), the outburst could last as little as 15 minutes and probably no more than 40 minutes, producing dozens of meteors during that short time.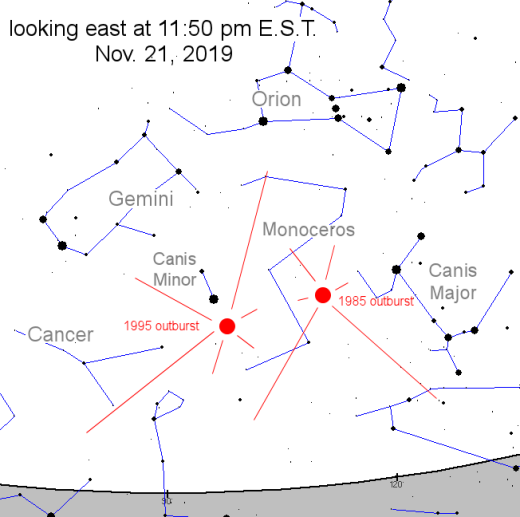 People in western Europe may have the best view shortly before sunrise on Nov. 22nd. For them, the shower's radiant in Monoceros (the Unicorn) will be relatively high in the southern sky. Sky watchers in eastern parts of North America can see the show, too, but not as well. As shown in the sky map, above, Monoceros will still be hugging the eastern horizon when the shower peaks over the east coast of Canada and the USA. West coast observers won't be able to see Monoceros at all.

There's no guarantee that anything will happen. Only a handful of alpha Monocerotid outbursts have been observed in the past century, which means researchers are still mapping the debris zone. Earth could hit a extra-dense spot, resulting in an amazing display, or pass through a void, producing nothing.

"We are crossing the dust trail along a different cord than in past returns and this will help understand how the dust is distributed perpendicular to the Earth's path," says Jenniskens. "Whatever happens, we are going to learn something."
Realtime Spaceweather Photo Gallery
Free: Spaceweather.com Newsletter

NOCTILUCENT CLOUDS ARE FORMING OVER ANTARCTICA: The southern season for noctilucent clouds (NLCs) is underway, according to new observations from NASA's AIM spacecraft. "On Nov. 15th, AIM detected a small cloud over eastern Antarctica," reports Cora Randall of the University of Colorado's Laboratory for Atmospheric and Space Physics. "This is the earliest we have seen NLCs appear since the AIM mission began in 2007." Note the electric-blue puff over Dronning Maud Land in this image taken by AIM's CIPS instrument: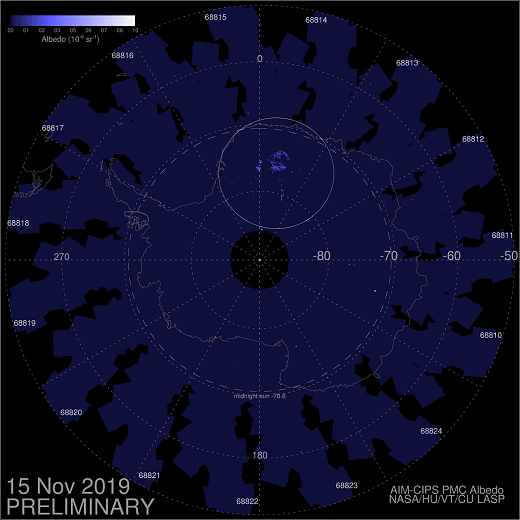 NLCs are Earth's highest clouds. They form around the poles when summertime water vapor billows up into the high atmosphere, crystallizing around specks of meteor smoke at the edge of space. Antarctic NLCs typically appear in mid- to -late November. This year's early apparition on Nov. 15th breaks the earlier mark of Nov. 17th set in 2013 and 2016.
If history is any guide, that little puff of blue is about to expand dramatically. Previous data from AIM spacecraft show that noctilucent clouds are like a great "geophysical light bulb." They turn on in late spring (in this case, austral spring) and reach almost full intensity over a period of no more than 5 to 10 days. A week from now, the entire South Pole could be ringed by electric blue clouds. Stay tuned!
Realtime NLC Photo Gallery
Free: Spaceweather.com Newsletter
ANNIE JUMP CANNON IN THE STRATOSPHERE: Pioneering astronomer Annie Jump Cannon invented the modern system of stellar classification. To honor her, the US Mint has created a $1 American Innovation coin featuring Cannon's silhouette and a spray of stars. On Nov. 11th, the students of Earth to Sky Calculus flew some to the stratosphere, 111,221 feet above the Sierra Nevada mountains of central California: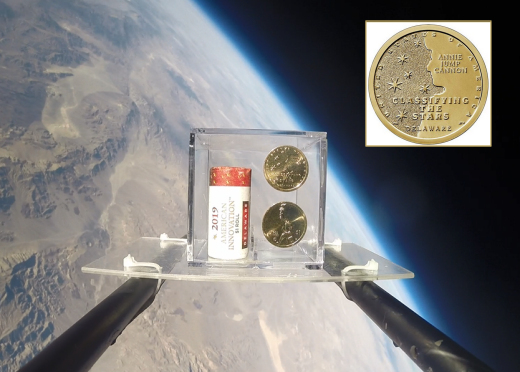 You can have a roll of 25 for $149.95. The students are selling the coins to support their cosmic ray ballooning program. Each roll contains 25 one dollar coins with uncirculated finishes. Cannon is shown on one side and the Statue of Liberty on the other. Individual coins make great Christmas stocking stuffers for young scientists--or give the whole roll as a special gift. Your order comes with a greeting card showing the coins in flight.
Far Out Gifts: Earth to Sky Store
All sales support hands-on STEM education
---
Realtime Aurora Photo Gallery
Free: Spaceweather.com Newsletter

Every night, a network of
NASA all-sky cameras
scans the skies above the United States for meteoritic fireballs. Automated software maintained by NASA's Meteoroid Environment Office calculates their orbits, velocity, penetration depth in Earth's atmosphere and many other characteristics. Daily results are presented here on Spaceweather.com.
On Nov. 19, 2019, the network reported 67 fireballs.
(40 sporadics, 18 Leonids, 9 northern Taurids)
In this diagram of the inner solar system, all of the fireball orbits intersect at a single point--Earth. The orbits are color-coded by velocity, from slow (red) to fast (blue). [Larger image] [movies]
Potentially Hazardous Asteroids (
PHAs
) are space rocks larger than approximately 100m that can come closer to Earth than 0.05 AU. None of the known PHAs is on a collision course with our planet, although astronomers are finding
new ones
all the time.
On November 19, 2019 there were
2018
potentially hazardous asteroids.

Recent & Upcoming Earth-asteroid encounters:
Asteroid

Date(UT)

Miss Distance

Velocity (km/s)

Diameter (m)

2019 VU5

2019-Nov-14

3.5 LD

22.6

45

2019 UE8

2019-Nov-15

7.7 LD

6.6

26

2019 WD

2019-Nov-15

2.5 LD

8.6

20

2019 VL5

2019-Nov-15

9.3 LD

8.4

25

2019 WC

2019-Nov-17

9.2 LD

7.6

18

2019 UR2

2019-Nov-18

18 LD

13.4

132

2019 WH

2019-Nov-19

0.2 LD

11

21

2019 UK6

2019-Nov-20

15.4 LD

7.7

66

2019 WF

2019-Nov-20

1.6 LD

11.6

14

2019 WE

2019-Nov-20

3.3 LD

8.5

16

481394

2019-Nov-21

11.3 LD

7.9

372

2019 VK

2019-Nov-21

5.8 LD

7.6

43

2008 EA9

2019-Nov-23

10.5 LD

2.2

10

2019 VF1

2019-Nov-25

13.3 LD

17.2

86

2017 AP4

2019-Dec-03

8.5 LD

7.5

15

2018 XW2

2019-Dec-07

17.4 LD

13

28

2019 VH5

2019-Dec-08

18 LD

9.8

69

216258

2019-Dec-20

15.3 LD

11.8

324

2013 XY20

2019-Dec-21

18.4 LD

1.9

28

2017 XQ60

2019-Dec-22

11 LD

15.6

47

310442

2019-Dec-26

19 LD

12.3

372

2019 AE3

2020-Jan-02

4.9 LD

8.2

13

2019 UO

2020-Jan-10

11.8 LD

9.4

377

2011 EP51

2020-Jan-15

19.6 LD

7.1

32

2017 RZ15

2020-Jan-15

12.1 LD

7.4

14