SEVERE SPACE WEATHER: Did you know a solar flare can cause your toilet to stop working? That's one of the surprising conclusions of a NASA-funded study on the social and economic impacts of severe space weather. Get the full story from Science@NASA.
SOLAR ECLIPSE: Oh to be in Borneo! On Monday, Jan. 26th, inhabitants of that heavily forested island will witness the sunset of a lifetime. Just as the sun descends into the waves of the Indian Ocean, the Moon will pass in front of the sun--dead center--covering 93% of the solar disk. The ensemble will form a stunning "ring of fire," something like this: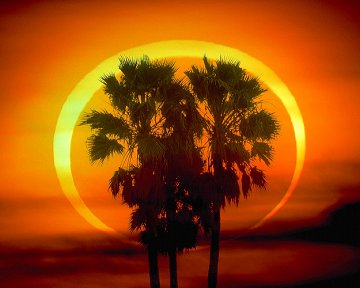 A Pacific annular eclipse in Jan. 1992. Photo credit: Dennis Mammana
Similar sunset rings will appear over the nearby islands of Java and Sumatra: map. Astronomers call such an event an annular eclipse.
Elsewhere, the Moon will pass off-center producing crescent suns of varying depth over south Africa, Madagascar, Australia, southern parts of India and southeast Asia. Sky watchers in those places should attend to the ground: crescent sunbeams will dapple the earth beneath leafy trees and garden latticework. Stay tuned for photos! Related links:
EXPLORE THE SUNSPOT CYCLE: Were you born under an active sun or a quiet sun? To find out, enter your birth date in the sunspot plotter:
The red curve traces monthly-averaged sunspot numbers tabulated by the Solar Influences Data Center in Belgium. Data points go all the way back to 1755, so you can investigate the relationship between solar activity and many historical events: Do stocks crash during solar minimum? Did NASA send astronauts to the Moon during Solar Max? How do sunspots affect the length of mini-skirts? If you find any interesting coincidences, be sure to tell the webmaster.
Permanent Link: Sunspot Plotter
---