SUNSPOT SYZYGY: Sunspot group 1023 has an eye-catching shape--it is a straight line. The group's four spots have formed a rare "sunspot syzygy." The formation makes a nice target for backyard solar telescopes.
more images: from Andy Dodson of Huirangi, New Zealand; from Pavol Rapavy of Observatory Rimavska Sobota, Slovakia; from Steve Wainwright of Swansea South Wales, UK;
SARYCHEV PEAK VOLCANO: Perfect timing. On June 12th, just as Russia's Sarychev Peak volcano was erupting for the first time in 20 years, the International Space Station flew directly overhead. Astronauts had their camera ready and snapped one of the most dramatic Earth-science photos ever taken from space: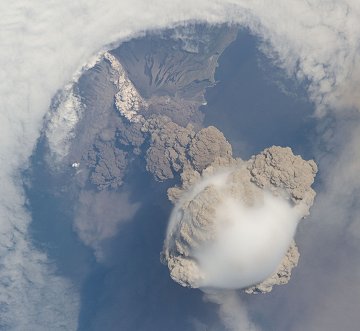 Researchers are studying this rare photo to learn about the early stages of powerful volcanic eruptions. A few phenomena stand out:
(1) The volcano erupted with such force, the plume actually punched through the atmosphere. Note how clouds around the volcano have parted in a circular ring--that is a result of a shock wave produced by the upward blast. (2) The plume is a mixture of brown ash and white steam. A "dirty thunderstorm" complete with lightning could be in progress within the roiling cloud. (3) The smooth white bubble on top of the plume is probably a mass of water condensing from air shoved upward by the rising ash column. If so, it is akin to the iridescent pileus clouds sometimes featured on spaceweather.com.
If you're not amazed yet, try this: Put on a pair of red-blue stereo glasses and behold the eruption in 3D. The anaglyph was created by graphic artist Patrick Vantuyne of Belgium. No stereo glasses? A cross-eyed version is also available.
CROSS CURRENTS: Noctilucent clouds are not like other clouds. They light up at night, electric blue, after regular clouds go dark. They float so high above Earth (80 km--at the edge of space), they make ordinary clouds seem like ground huggers. And, of course, noctilucent clouds go their own way. All of these differences are on display in a movie made by German photographer Christoph Rollwagen. Click on the image to set the scene in motion (DivX required):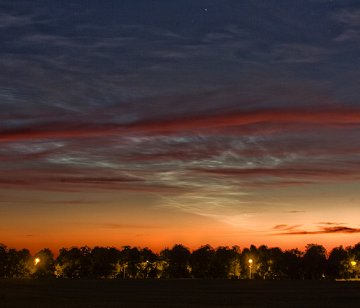 The movie is available in two formats: #1 (avi), #2 (mov)
"Yesterday evening, June 23rd, I noticed these noctilucent clouds shining through cirrus clouds above my home in Potsdam-Bornstedt," says Rollwagen. "It was a colorful and dynamic scene. Note how the noctilucent and cirrus clouds move in opposite directions."
"I made the movie using my Canon EOS 300Da," he adds.
Summer is the season for noctilucent clouds. Browse the gallery for more examples and observing tips:
2009 Noctilucent Photo Gallery
[previous years: 2008, 2007, 2006, 2005, 2004, 2003]
---