| | | |
| --- | --- | --- |
| NEW AND IMPROVED: Turn your iPhone or iPod into a field-tested global satellite tracker. The Satellite Flybys app now works in all countries. | | |
A MONTH OF SUNSPOTS: February 2010 is on the verge of a three-year "first." It's the first month since January 2007
with sunspots every single day. It's been a long solar minimum, but solar activity is on the rise again. Today, NASA's STEREO mission is tracking at least six active regions around the circumference of the sun. Check them out on the 3D Sun.
MARTIAN CONJUNCTION: Last night's conjunction of Mars and the Moon was so big and bright, anyone could see it--no telescope required. A telescope could still come in handy, though. It made nice scenery for the photo-op: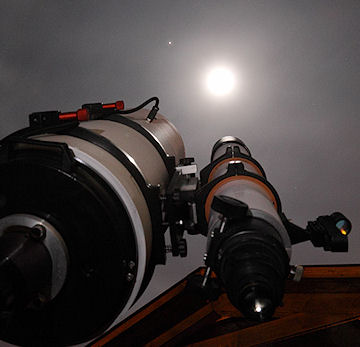 Tamas Ladanyi took the picture from his backyard in Veszprem, Hungary. "As a matter of fact," he says, "I was putting my telescope to good use. It was scanning the Moon." He video-recorded the scan using a Canon EOS 500D; click here to watch the movie he calls Moonwalk.
In case you missed it, another Moon-Mars conjunction is less than a month away. On March 24th, the two worlds will gather together only 5o apart. Reminder calls may be had from Spaceweather PHONE.
more images: from Nazanin Beyzaie of Sydney, Australia; from P-M Hedén of Vallentuna, Sweden; from Mark Arzadon of San Jacinto, Pangasinan, Philippines; from M. Raşid Tuğral of Ankara, Turkey; from P-M Hedén of Vallentuna, Sweden;
SOUTH POLE SUN HALO: It's a fact: You're more likely to see a sun halo if the sun is up 24 hours a day. Such is the case at the South Pole where Cody Lee Meyer took this picture on Feb. 26th: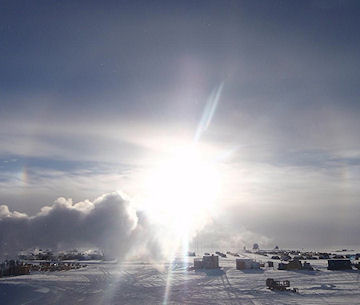 "The autumnal equinox is coming up for folks living at the South Pole Station (90 S latitude)," says Meyer. "We are blessed to witness sun shows nearly every day as the sun hangs around 9.3 degrees above the horizon and ice lingers in the sky."
Of course, you don't have to be at the South Pole to see a sun halo. Click on the links for examples: from Mustafa Erol of Antalya/Turkey; from Jose R Gonzalez of Miami, Florida; from Paul Osimo of Providence, Rhode Island; from Teresa Hernandez of Ramos Mejía, Buenos Aires, Argentina; from Monika Landy-Gyebnar of Veszprem, Hungary; from Michael Boschat of Halifax, Nova Scotia, Canada;
---
February Northern Lights Gallery
[previous Februarys: 2009, 2008, 2007, 2006, 2004, 2003, 2002]