RADIO METEORS: The Ursid meteor shower caused by Comet 8P/Tuttle peaks this year on Dec. 22nd. About a dozen meteors per hour will fly out of the Little Dipper (Ursa Minor) as Earth passes through the comet's debris stream. Watching these northern meteors can be a chilling experience, so why not stay inside and listen to them instead? Spaceweather.com is broadcasting live audio from the Air Force Space Surveillance Radar in Texas. When a meteor passes over the radar--"ping"--there is an echo. Give it a try; feedback is welcomed.
NACREOUS CLOUDS: For the second time in a week, nacreous clouds have made an appearance over Scandinavia. On Dec. 17th they were sighted over Trondheim, Norway. Yesterday, the clouds came to Kittila, Finland: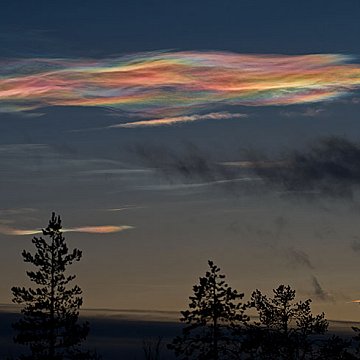 Photo details: Nikon D3, 1/160 sec, ISO 200
"These were our first nacreous clouds of the season," says photographer Sauli Koski. "I could watch them all day!"
Nacreous clouds are located in the stratosphere some 9 to 16 miles high. Their iridescent "mother of pearl" colors come from sunlight striking tiny ice crystals inside the clouds. Very low temperatures near -85o C are required to form the crystals, which is why nacreous clouds are seen mainly during winter over places like Alaska, Iceland and Scandinavia.
These clouds are supposed to be rare, yet earlier this year Scandinavians witnessed a veritable "nacreous storm." For more than a week in January 2008, hardly a night went by without someone spotting mother-of-pearl colors in the sky. No one knows what caused the storm or if it could happen again. One thing is sure: northern sky watchers should be alert for more. The best time to look is during the twilight hours before dawn or after sunset.
2008 Nacreous Cloud Photo Gallery
[Nacreous cloud tutorial] [Night-sky cameras]
SATURN'S RINGS: You might never see Saturn's rings this skinny again. Since 2008 began, the rings have been tilting toward Earth and now they are nearly edge-on with an opening angle of only 0.8o. A composite image submitted by Efrain Morales Rivera of Aguadilla, Puerto Rico, shows how the geometry has changed: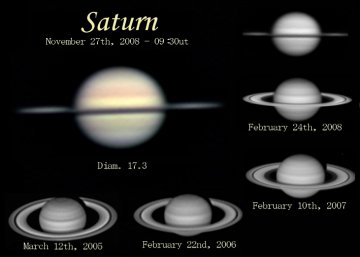 As Saturn goes around the sun, it periodically turns its rings edge-on to Earth—once every 14-to-15 years. That's what is happening now. Earth is approaching Saturn's "ring plane," a vantage that transforms the normally wide and bright rings into a dark line bisecting Saturn's two hemispheres.
The rings will completely disappear on Sept. 4, 2009, when Earth crosses through the ring plane. Unfortunately, no one will be able to see it because Saturn will be so close to the Sun. The next ring plane crossing in plain view of Earth won't come until the year 2038.
Until then, the skinniest you're likely to see Saturn's rings is now. Saturn is easy to find in the constellation Leo just before dawn. Point your backyard telescope and behold the edge: sky map.
---
Dec. 2008 Aurora Gallery
[Previous Decembers: 2007, 2006, 2005, 2001, 2000]