Where's Saturn? Is that a UFO--or the ISS? What's the name of that star? Get the answers from mySKY--a fun new astronomy helper from Meade.

THE ONE THAT GOT AWAY: "I went out to find the big prominence observed by Pete Lawrence earlier today, but it was already gone... well, almost," reports Alan Friedman of Buffalo, New York. He photographed the last wisps of the prominence just after it erupted: image. "I used a 92mm telescope equipped with a Coronado Solarmax filter." (Prominence alert: Cancelled.)

more images: from Alcaria Rego of Almada, Portugal; from Pete Lawrence of Selsey, UK.

COMET 17P/HOLMES: Sometimes a picture is worth a thousand words: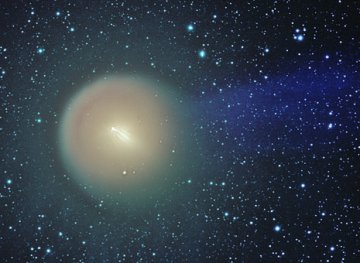 This is a composite image of exploding Comet 17P/Holmes. German astrophotographer Sebastian Voltmer combined various exposures taken through his 4.1-inch refracting telescope and processed the composite to highlight the comet's bright golden core (with jets and streamers), its gossamer green halo and an emerging faint blue tail. It's one of the strangest and most beautiful photos of a comet ... ever.
If that doesn't make you want to see Comet Holmes with your own eyes, perhaps this will: "The comet is growing fantastically," reports Thorsten Boeckel of Fuerstenfeldbruck, Bavaria, who has been monitoring the expansion: image. "By Sunday," he estimates, "it will be half as wide as a full Moon."
Comet Holmes is easy to find. After sunset, look north for an expanding fuzzball in the constellation Perseus: sky map. Point your telescope and--voila!--an exploding comet.
Comet 17P/Holmes Photo Gallery
[Interactive World Map of Comet Photos]
[sky map] [ephemeris] [3D orbit] [Night Sky Cameras]

WHAT'S IN YOUR COFFEE? Take a look in your morning coffee. Is there anything in there other than joe? This week in London, Maurice Gavin found an entire rainbow. "I was staring into my black coffee--prior to adding cream!--and watching the steam rise from the surface when I noticed a subtle and constantly shifting rainbow in the grainy surface," he says. "Very pretty!"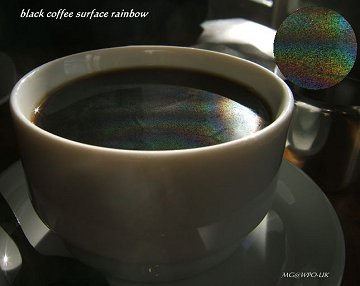 At first glance this seems to be the oil slick effect: Sunlight striking a thin film of aromatic oil at the top of the cup creates a rainbow-like spectrum of colors. But that can't be the whole story. The oil in this cup is not spread into a simple film; instead, it seems to be organized as a large number of very small floating droplets, says Gavin.
So what makes the rainbow? "One possibility is Quételet rings," speculates atmospheric optics expert Les Cowley. "These are seen for example on dusty glass and some algae covered lakes. They work like this: Imagine a particle very close to a mirror. Light will be scattered directly from the particle. Light is also reflected by the mirror and then scattered by the particle. If the particle is small then the two scattered wavefronts interfere and you have colored fringes."
"I am not absolutely sure whether the Quételet process is the one acting here. There could be a lot of things going on in Gavin's coffee," says Cowley. "He should drink it up while it is hot!"