| | | |
| --- | --- | --- |
| Special Offer: SAVE 600nok per person. Book a combination aurora borealis chase and scenic day tour during the months of September, October or November 2019 for the special price of 1800 kr. Check Marianne's webpage for details! | | |
NEW COSMIC RAY DATA FEED ON SPACEWEATHER.COM: As Solar Minimum deepens, cosmic rays are intensifying. You can now watch the daily change in radiation right here on Spaceweather.com. A new data feed displays neutron monitor measurements from the University of Oulu's Cosmic Ray Station in Finland. Radiation levels are now just percentage points away from setting a Space Age record: full story.
IRISH SKIES TURN PURPLE: Decaying hurricane Lambert swept past Ireland yesterday. Curiously, when the skies cleared they weren't blue. "They were purple," reports John Murphy, who sends this picture from Cork City: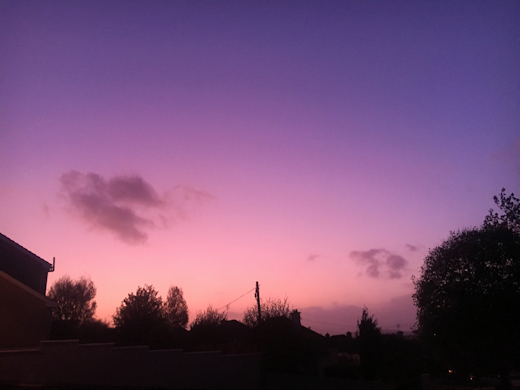 "As Oct. 3rd came to an end, strong gusts and heavy rain eventually gave way to this volcanic sunset," he says.
That's right. Hurricane Lambert didn't cause the strangely colored sunset. The Raikoke volcano did. Located in Russia's Kuril islands, Raikoke erupted on June 22nd, pushing volcanic aerosols high into the stratosphere. They're still up there. Apparently, one of the sulfurous plumes followed Hurricane Lambert across Ireland Oct 3rd, painting the sunset sky with unusual color.
Why purple? Fine volcanic aerosols in the stratosphere scatter blue light which, when mixed with ordinary sunset red, produces a purple hue. Months after Raikoke erupted, sky watchers around the world are still seeing purple skies when its emissions float by. Browse the gallery for more examples.
Realtime Volcanic Sunset Photo Gallery
Free: Spaceweather.com Newsletter
A MULTIPLE ANALEMMA: If you took a picture of the sun at the same time each day, would it remain in the same position? The answer is no, and the figure-8 shape traced out by the sun over the course of a year is called an analemma. Over the years, Spaceweather.com has featured many beautiful analemmas ... but none like this. John Dartnell of North Wiltshire, UK, photographed the sun 24 times a day for a whole year, creating a rare multiple "biscuit tin" analemma: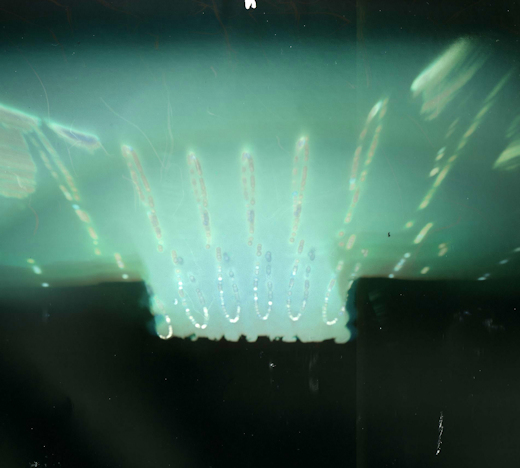 "I made a pinhole camera from a biscuit tin," explains Dartnell. "Exposures were controlled by a battery driven clock. A rotating disc with a cut out slot acted as a shutter to give an exposure every hour. The resulting image shows six analemmas with traces of three others."
In all, this one picture captures 12 months of exposure time on a single photographic paper--from Sept. 2018 to Sept.  2019. The upper and lower tips of each "8" represent the solstices--the longest and shortest days of the year. Equinoxes occur near the necks.

"Making an analemma in the UK is a challenge because of our cloudy weather," says Dartnell. "You can't consistently see the sun at noon.  That why I decided on this approach of setting up a pinhole camera that could record the sun at intervals throughout the day. As you can imagine, at the end of the year I opened up the tin with a mixture of great anticipation and potential disappointment. I was glad to see it was a success."
Realtime Analemma Photo Gallery
Free: Spaceweather.com Newsletter
THE ANTARES PENDANT: Are you looking for a far-out gift? Consider the Antares Pendant. On Aug. 19, 2019, the students of Earth to Sky Calculus launched a cosmic ray balloon to the edge of space, 104,002 ft high. This ruby-red crystal necklace went along for the ride:

You can have it for $179.95. The students are selling these white gold-plated pendants to support their cosmic ray ballooning program. The glittering Swarovski crystal has a deep ruby hue inspired by the red-supergiant star Antares in Scorpio. Each one comes with greeting card showing the pendant in flight and telling the story of its journey to the edge of space and back again.
Far Out Gifts: Earth to Sky Store
All sales support hands-on STEM education
---
Realtime Space Weather Photo Gallery
Free: Spaceweather.com Newsletter
---
Realtime Aurora Photo Gallery
Free: Spaceweather.com Newsletter

Every night, a network of
NASA all-sky cameras
scans the skies above the United States for meteoritic fireballs. Automated software maintained by NASA's Meteoroid Environment Office calculates their orbits, velocity, penetration depth in Earth's atmosphere and many other characteristics. Daily results are presented here on Spaceweather.com.
On Oct. 3, 2019, the network reported 22 fireballs.
(21 sporadics, 1 southern Taurid)
In this diagram of the inner solar system, all of the fireball orbits intersect at a single point--Earth. The orbits are color-coded by velocity, from slow (red) to fast (blue). [Larger image] [movies]
Potentially Hazardous Asteroids (
PHAs
) are space rocks larger than approximately 100m that can come closer to Earth than 0.05 AU. None of the known PHAs is on a collision course with our planet, although astronomers are finding
new ones
all the time.
On October 4, 2019 there were
2018
potentially hazardous asteroids.

Recent & Upcoming Earth-asteroid encounters:
Asteroid

Date(UT)

Miss Distance

Velocity (km/s)

Diameter (m)

2019 TA

2019-Sep-29

1.2 LD

6.2

5

2019 SE5

2019-Sep-29

5.7 LD

6.6

15

2019 SO1

2019-Sep-29

11.3 LD

7.5

16

2019 SA5

2019-Sep-29

19.2 LD

7.8

25

2019 TD

2019-Sep-29

0.3 LD

10.1

5

2019 TF

2019-Sep-29

18 LD

10

11

2019 SN4

2019-Sep-29

6.5 LD

19.6

48

2019 TC

2019-Sep-29

14.5 LD

12.3

19

2019 SH3

2019-Sep-30

3.1 LD

14.2

27

2019 SN3

2019-Sep-30

2.2 LD

7.7

16

2019 SP

2019-Sep-30

6.6 LD

15.1

46

2019 TR

2019-Oct-01

15.7 LD

8.1

28

2019 SJ9

2019-Oct-01

7.8 LD

8.4

14

2019 SM8

2019-Oct-01

0.4 LD

14.2

5

2019 SE8

2019-Oct-01

2.8 LD

22.8

15

2019 SE9

2019-Oct-01

14.1 LD

4.1

37

2018 FK5

2019-Oct-01

13.3 LD

10.5

8

2019 SD8

2019-Oct-02

1.4 LD

10.9

12

2019 SX3

2019-Oct-02

8.7 LD

8.7

30

2019 SA6

2019-Oct-02

11.8 LD

16.6

30

2019 TW

2019-Oct-02

4.5 LD

3.7

10

2018 LG4

2019-Oct-02

13.8 LD

8.1

12

2019 SL8

2019-Oct-03

7.9 LD

13.3

24

2019 SP3

2019-Oct-03

1 LD

8.7

20

2019 SH9

2019-Oct-03

4.6 LD

14.9

10

2019 TK

2019-Oct-03

1.2 LD

13.9

9

2019 TX

2019-Oct-04

1.3 LD

7.3

7

2019 TV

2019-Oct-05

4.1 LD

9.1

9

2017 TJ4

2019-Oct-05

13.5 LD

8.9

32

2019 SZ4

2019-Oct-06

18.7 LD

6.5

25

2019 TH

2019-Oct-06

14.7 LD

11.5

26

2019 TU

2019-Oct-08

4.4 LD

9.8

21

2019 RK

2019-Oct-08

16.7 LD

3

30

2019 TC1

2019-Oct-08

3.5 LD

13.1

12

2019 SB6

2019-Oct-08

7.8 LD

7.8

16

2019 TM

2019-Oct-08

9.4 LD

12.9

38

2019 TS

2019-Oct-08

8.4 LD

7.8

29

2019 TZ

2019-Oct-09

8 LD

11.6

16

2019 SL7

2019-Oct-09

1.4 LD

17.1

22

2019 SX5

2019-Oct-10

17.7 LD

21.8

82

2019 SK8

2019-Oct-12

10.5 LD

8.4

21

2019 SV9

2019-Oct-12

8.6 LD

13.6

30

2019 SE2

2019-Oct-12

19.2 LD

10.2

54

2019 SR8

2019-Oct-16

13.5 LD

9.8

26

2019 TA1

2019-Oct-18

15.2 LD

6.5

22

2019 SJ8

2019-Oct-19

11.6 LD

7.4

47

162082

2019-Oct-25

16.2 LD

11.2

589

2017 TG5

2019-Oct-25

14.4 LD

11.9

34

2015 JD1

2019-Nov-03

12.9 LD

11.9

269

2010 JG

2019-Nov-12

19.6 LD

14.9

235

481394

2019-Nov-21

11.3 LD

7.9

372

2008 EA9

2019-Nov-23

10.5 LD

2.2

10

Notes: LD means "Lunar Distance." 1 LD = 384,401 km, the distance between Earth and the Moon. 1 LD also equals 0.00256 AU. MAG is the visual magnitude of the asteroid on the date of closest approach.

| | |
| --- | --- |
| | Cosmic Rays in the Atmosphere |

SOMETHING NEW! We have developed a new predictive model of aviation radiation. It's called E-RAD--short for Empirical RADiation model. We are constantly flying radiation sensors onboard airplanes over the US and and around the world, so far collecting more than 22,000 gps-tagged radiation measurements. Using this unique dataset, we can predict the dosage on any flight over the USA with an error no worse than 15%.

E-RAD lets us do something new: Every day we monitor approximately 1400 flights criss-crossing the 10 busiest routes in the continental USA. Typically, this includes more than 80,000 passengers per day. E-RAD calculates the radiation exposure for every single flight.

The Hot Flights Table is a daily summary of these calculations. It shows the 5 charter flights with the highest dose rates; the 5 commercial flights with the highest dose rates; 5 commercial flights with near-average dose rates; and the 5 commercial flights with the lowest dose rates. Passengers typically experience dose rates that are 20 to 70 times higher than natural radiation at sea level.

To measure radiation on airplanes, we use the same sensors we fly to the stratosphere onboard Earth to Sky Calculus cosmic ray balloons: neutron bubble chambers and X-ray/gamma-ray Geiger tubes sensitive to energies between 10 keV and 20 MeV. These energies span the range of medical X-ray machines and airport security scanners.

Column definitions: (1) The flight number; (2) The maximum dose rate during the flight, expressed in units of natural radiation at sea level; (3) The maximum altitude of the plane in feet above sea level; (4) Departure city; (5) Arrival city; (6) Duration of the flight.

SPACE WEATHER BALLOON DATA: Approximately once a week, Spaceweather.com and the students of Earth to Sky Calculus fly space weather balloons to the stratosphere over California. These balloons are equipped with radiation sensors that detect cosmic rays, a surprisingly "down to Earth" form of space weather. Cosmic rays can seed clouds, trigger lightning, and penetrate commercial airplanes. Furthermore, there are studies ( #1, #2, #3, #4) linking cosmic rays with cardiac arrhythmias and sudden cardiac death in the general population. Our latest measurements show that cosmic rays are intensifying, with an increase of more than 18% since 2015:

The data points in the graph above correspond to the peak of the Reneger-Pfotzer maximum, which lies about 67,000 feet above central California. When cosmic rays crash into Earth's atmosphere, they produce a spray of secondary particles that is most intense at the entrance to the stratosphere. Physicists Eric Reneger and Georg Pfotzer discovered the maximum using balloons in the 1930s and it is what we are measuring today.

En route to the stratosphere, our sensors also pass through aviation altitudes:

In this plot, dose rates are expessed as multiples of sea level. For instance, we see that boarding a plane that flies at 25,000 feet exposes passengers to dose rates ~10x higher than sea level. At 40,000 feet, the multiplier is closer to 50x.

The radiation sensors onboard our helium balloons detect X-rays and gamma-rays in the energy range 10 keV to 20 MeV. These energies span the range of medical X-ray machines and airport security scanners.

Why are cosmic rays intensifying? The main reason is the sun. Solar storm clouds such as coronal mass ejections (CMEs) sweep aside cosmic rays when they pass by Earth. During Solar Maximum, CMEs are abundant and cosmic rays are held at bay. Now, however, the solar cycle is swinging toward Solar Minimum, allowing cosmic rays to return. Another reason could be the weakening of Earth's magnetic field, which helps protect us from deep-space radiation.

| | |
| --- | --- |
| | The official U.S. government space weather bureau |

| | |
| --- | --- |
| | The first place to look for information about sundogs, pillars, rainbows and related phenomena. |

| | |
| --- | --- |
| | Researchers call it a "Hubble for the sun." SDO is the most advanced solar observatory ever. |

| | |
| --- | --- |
| | 3D views of the sun from NASA's Solar and Terrestrial Relations Observatory |

| | |
| --- | --- |
| | Realtime and archival images of the Sun from SOHO. |

| | |
| --- | --- |
| | from the NOAA Space Environment Center |

| | |
| --- | --- |
| | fun to read, but should be taken with a grain of salt! Forecasts looking ahead more than a few days are often wrong. |

| | |
| --- | --- |
| | from the NOAA Space Environment Center |

| | |
| --- | --- |
| | the underlying science of space weather |

To find reviews of new online casino sites in the UK try The Casino DB where there are hundreds of online casino reviews complete with bonuses and ratings.

Looking for a new online casino? Try Casimpo the new site dedicated to making online casino simple and easy for all.

| | |
| --- | --- |
| | These links help Spaceweather.com stay online. Thank you to our supporters! |