| | | |
| --- | --- | --- |
| NEW AND IMPROVED: Turn your iPhone or iPod Touch into a field-tested global satellite tracker. The Satellite Flybys app now works in all countries. | | |
AURORA SEASON: Northern spring is approaching, and that means it's aurora season. For reasons researchers don't fully understand, the weeks around equinoxes are twice as likely as other times of the year to have geomagnetic storms. Arctic sky watchers should be alert for Northern Lights.
SOLAR FILAMENTS: Today,astronomers around the world are monitoring a pair of dark magnetic filaments on the sun. Rogerio Marcon sends this composite image from his backyard observatory in Campinas, Brasil: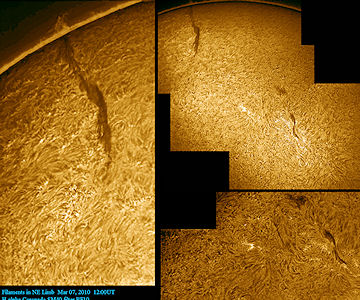 The largest filament, which is curling over the sun's northeastern limb, stretches at least 50,000 km from end to end. SOHO has been monitoring the plasma-filled behemoth for more than three days: movie. How long can this filament hold itself up? If it collapses and hits the stellar surface, the impact could produce a powerful Hyder flare. Readers with solar telescopes are encouraged to monitor developments.
more images: from Robert Arnold of Isle of Skye, Scotland; from Peter Paice of Belfast, Northern Ireland; from Mike Borman of Evansville, Indiana; from David Gradwell of Near Birr Ireland; from Malcolm Park of London UK; from James Kevin Ty of Manila , Philippines; from Stephen Ames of Hodgenville, KY; from Davide Cirioni of Cilavegna, Italy; from Fabio Mariuzza of Biauzzo - Italy; from Bavais Joel of Ath, Belgium; from Alan Friedman of downtown Buffalo, NY; from Brian Woosnam of North Wales UK; from Cai-Uso Wohler of Bispingen, Germany; from S. Barube and J. Stetson of S.Portland, Maine; from Greg Piepol of Rockville, Md
VENUS IS BACK: No, it's not an airplane or a UFO. That bright light you see tonight shining through the rosy glow of sunset is Venus, returning to the evening sky after a long absence. The view from the Netherlands on March 7th was electric: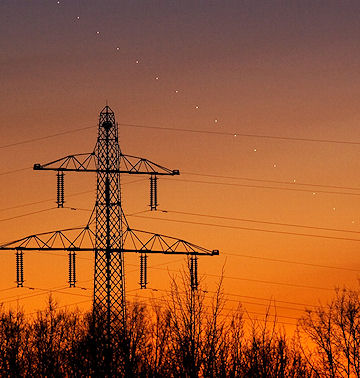 "I combined several shots of Venus setting to make this composite image," says photographer "Neo" of Venlo. "It was a beautiful sight."
Readers, look low and west at sunset. Venus pops out of the twilight long before the sky fades to black. The Evening Star has returned!
more images: from P-M Hedén of Vallentuna, Sweden; from Stefano De Rosa of Turin (Italy); from Doug Zubenel of Kansas City Missouri; from Dennis Put of Brielle, Zuid-Holland, The Netherlands; from Kevin Jung of East of Lowell, Michigan; from Christopher Calubaquib of El Sobrante, California;
---