What's the name of that star? Where's Saturn? Get the answers from mySKY--a fun new astronomy helper from Meade.
FANTASTIC FLYBY: NASA has released stunning new images taken by the New Horizons spacecraft during its recent flyby of Jupiter. Highlights include auroras on Io and the best-ever color photo of Jupiter's "Little Red Spot." Get the full story from Science@NASA.
TWO YEARS IN TWO SECONDS: Take a look at tonight's full Moon--it's unique. They all are! Laurent Laveder has spent the last two years taking pictures of every full Moon over his home in France, and here is the result: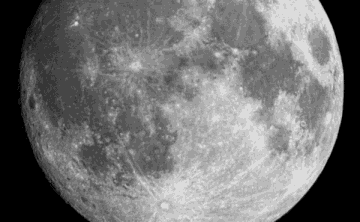 Photo details: Canon 350D, 2x Barlow, Megrez 80/480 refractor, 1/250 s, 200 ASA
The Moon rocks and rolls, shrinks and swells, never presenting precisely the same face twice. "In the full-sized animation, you'll see 2 years condensed in only 2 seconds!" says Laveder. "Sorry for the mal de mer."
Wait a minute. Didn't they teach us in school that the same side of the Moon always faces Earth? That's only approximately true. Because the Moon's orbit is slightly elliptical (5%) and slightly tilted (5o), we view each month's full Moon from a slightly different distance and angle. The rocking motions are called libration; because of them we can observe not just 50% but rather 59% of the Moon's surface.
ELLERMAN BOMBS: "I was photographing sunspot 953 this morning, when suddenly four bright white dots just appeared in front of my eyes from nowhere," says P-M Hedén of Vallentuna, Sweden. "It was really an amazing moment."
The white dots he saw were Ellerman Bombs: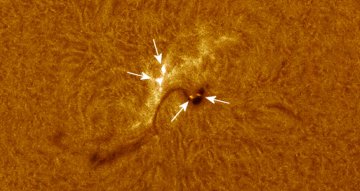 Photo details: Orion 80ED, Canon Digital Rebel XT, SolarMax60 filter.
Sometimes called "microflares," Ellerman Bombs are magnetic explosions about one-millionth as powerful as a true solar flare. They are named after Ferdinand Ellerman who studied the tiny blasts in the early 20th century. Of course, "tiny" is relative. A single Ellerman bomb releases about 1026 ergs of energy--equal to ten million atomic bombs. Sunspot 953 is crackling with these blasts, which makes it very entertaining to watch.
more images: from Rogerio Marcon of Campinas - Brasil; from Jack Newton of Osoyoos British Columbia; from Robert Arnold on the Isle of Skye, Scotland; from Eva Seidenfaden of Trier, Germany; from Branden Morrissette of South Portland, Maine; from Sylvain Weiller of Saint Rémy lès Chevreuse, France; from Joel Bavais of Ath, Belgium;