Autumn is here, and it's a wonderful time for stargazing. Find out what's up from Spaceweather PHONE.
TRANSIT OF MERCURY: Exactly one week from today, Mercury will pass directly in front of the sun. The planet's jet-black disk will glide among sunspots, filaments and prominences--a beautiful sight worthy of art and photography. Get the full story from Science@NASA.
SOLAR ACTIVITY: Sunspot 921 is still growing. Only a speck two days ago, it is now as wide as the planet Jupiter and poses a threat for M-class solar flares.


A SOHO animation of sunspot 921. Oct 30- Nov 1, 2006
"I've not been able to look at the Sun for a few days so it came as a surprise today to see this lovely sunspot close to an equally beautiful prominience on the nearby limb," says Pete Lawrence of Selsey, UK. He took this picture through his Personal Solar Telescope: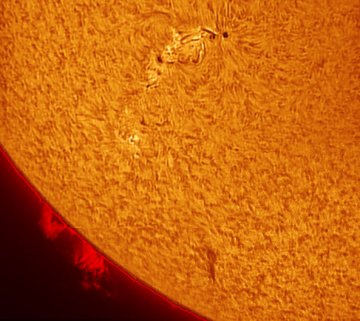 more images: from Robert Arnold on the Isle of Skye, Scotland; from Guillaume Bertrand of Saint Laurent sur Sèvre, Vendee, France; from John C McConnell of Maghaberry Northern Ireland; from John Stetson of Falmouth, Maine.
CLOUD SHADOWS: The shadows in this picture are not coming from the fingers of photographer David Williams, but rather from clouds miles overhead: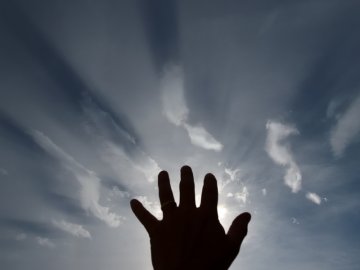 "I walked outside this morning and noticed a faint halo around the sun," says Williams. "Then I saw a whole lot more--rays and shadows mixed in. It was a remarkable sight and a bit confusing, but definitely worth photographing!"
EXTRA: Look carefully at Dave's photo of the sun halo (click here) and answer this question: Which is higher, the ice crystals that made the halo or the thick clouds that made the shadows?