| | | |
| --- | --- | --- |
| NEW AND IMPROVED: Turn your iPhone or iPod Touch into a field-tested global satellite tracker. The Satellite Flybys app now works in all countries. | | |
CHILEAN QUAKE SHIFTS EARTH'S AXIS: Widespread press reports have noted that February's Chilean earthquake might have shortened Earth's day by a small amount. Today's story from Science@NASA explores a more significant effect---how the quake might have shifted Earth's axis.
SPACE STATION MOVIE: Last month, astronauts added a new room to the space station--a cupola with seven windows and a breathtaking panoramic view. Members of the crew say they enjoy spending their spare time floating among the glass looking at the Earth below. Last night, someone on Earth was looking back. Dirk Ewers photographed the ISS as it flew over his backyard in Hofgeismar, Germany. The cupola is circled: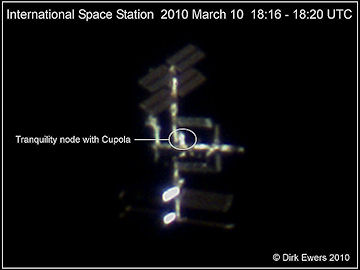 Click to launch a 3 MB movie (DivX required)
Ewers obtained the crystal-clear view using only a 5-inch refracting telescope. "I was lucky to have clear skies and good seeing," he says. For five minutes, he tracked the bright spaceship across the sky and his movie of the entire transit is a must-see.
This week the space station is making a series of bright passes over Europe. Next week the apparitions shift to North America. Check the Simple Satellite Tracker or your iPhone for flybys. You might just lock eyes with an astronaut.
more images: from Martin McKenna of Maghera, Co. Derry, N. Ireland; from Martin Popek of Nýdek, Czech republic; from Martin Hahn of Dresden, Germany; from James Burke of Sligo, Ireland; from Pawel Warchal of Krakow, Poland; from Enrico Finotto of Health of Livenza (VE) Italy
IDITAROD SKIES: This week, hundreds of the world's finest athletes are racing 1,150+ miles across some of most extreme and beautiful terrain in the world--the Iditarod trail of Alaska. If any of those sled dogs raise their blue eyes to the sky, they might see something like this: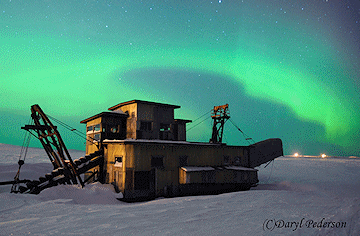 Daryl Peterson took the picture on March 21, 2009. "I went to Nome last year to shoot the finish of the Iditarod," he recalls. "During the race you can almost bank on seeing some Northern Lights, even when solar activity is low."
He's right. On average, March is the most geomagnetically active month of the year; October is a close second (histogram). The reason is not fully understood, but it has something to do with the orientation of Earth's axes and the sun's magnetic field around the time of the equinoxes. The Iditarod takes place smack-dog in the middle of aurora season.
Now, if only huskies could operate a camera....
March Northern Lights Gallery
[previous Marches: 2009, 2008, 2007, 2006, 2005, 2004, 2003]