| | | |
| --- | --- | --- |
| NEW AND IMPROVED: Turn your iPhone or iPod Touch into a field-tested global satellite tracker. The Satellite Flybys app now works in all countries. | | |
ANOTHER SURPRISE FROM THE SUN: A massive "current of fire" on the sun has started running at high speed, surprising researchers and challenging some models of the solar cycle. Get the full story from Science@NASA.
COMET TOAST: The solar system has one less comet. On March 12th, the Solar and Heliospheric Observatory (SOHO) watched as a comet plunged into the sun and disappeared. Fierce solar heating completely destroyed the icy visitor from the outer solar system. Click on the image to see the comet's last hours: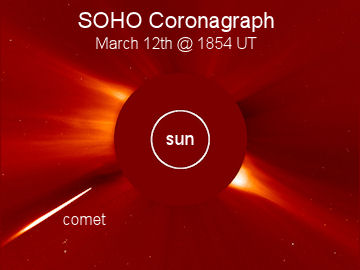 The comet was probably a member of the Kreutz sungrazer family. Named after a 19th century German astronomer who studied them in detail,Dirk Peeters.Kreutz sungrazers are fragments from the breakup of a giant comet at least 2000 years ago. Several of these fragments pass by the sun and disintegrate every day. Most are too small to see but occasionally a big fragment--like this one--attracts attention.
UPDATE: Several readers have noticed that the doomed comet was actually a string of doomed comets, plural. Click here for a Youtube video posted by Kurt McNamara, and here for a sequence of labeled diagrams from Dirk Peeters.
BUSY SUN: "With a complex sunspot and several bright filaments, the sun is really busy today!" reports amateur astronomer Robert Arnold. He sends this highlight from his backyard observatory on the Isle of Skye, Scotland: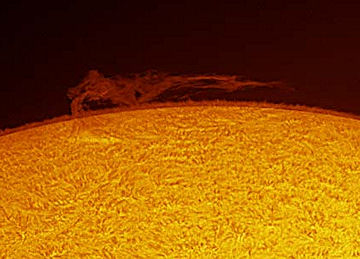 "This huge prominence was so bright, I was able to photograph it using the same camera settings I used for the solar surface," notes Arnold. "It's very easy to see." Readers with solar telescopes are encouraged to take a look.
more images: from Rogerio Marcon of Campinas, Brazil; from Mike Rosset of Mandarin, Florida; from Fabio Mariuzza of Biauzzo, Italy; from Stefano Sello of Pisa, Italy;
---
March Northern Lights Gallery
[previous Marches: 2009, 2008, 2007, 2006, 2005, 2004, 2003]