| | | |
| --- | --- | --- |
| iPHONE VS ANDROID! Actually, it doesn't matter which phone you carry. Our cool, new app turns both smartphones into field-tested satellite trackers. Learn more. | | |
SUNSPOT STRIGIDAE: Sunspot 1093 continues to amaze onlookers. Earlier this week, it divided like a giant amoeba undergoing mitosis. And "today it looks like an owl," reports Rogerio Marcon of Campinas, Brasil. "What a beautiful configuration!" What's next? Readers with solar telescopes are encouraged to monitor developments.
PERSEID METEOR SHOWER: The Perseid meteor shower isn't done yet. According to the International Meteor Organization, dark-sky observers are counting as many as 80 Perseids per hour, including many fireballs. The show could continue for another 12 hours or so as Earth continues its passage through the debris stream of Comet Swift-Tuttle.
Last night the shower was very active in Arizona. "Here are a dozen Perseids I saw flying over the Steward Observatory on Mount Lemmon," says astronomer David A Harvey: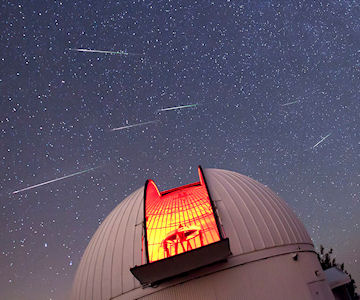 "We also had a nice show in Norway even though the sky was still not completely dark at 62o North!" reports Runar Sandnes. "Meteors came sometimes in showers of 2 or 3."
Darrell Oake of Dartmouth, Nova Scotia, adds this report: "It was a nice clear night, the sky was filled with stars, and then--bam!--a fireball streaked across the heavens. My son Jacoté was cold, but when that first meteor lit up the sky, he was hooked and stayed up all night taking in all nature could dish out."
Browse the gallery for more reports and images.
Key Perseid Resources:
FRIDAY THE 13TH: Friday the 13th is supposed to be unlucky. This Friday the 13th, however, is guaranteed to end well. When the sun goes down, Venus, the crescent Moon, Saturn and Mars will pop out of the twilight together, forming a lovely sunset conjunction: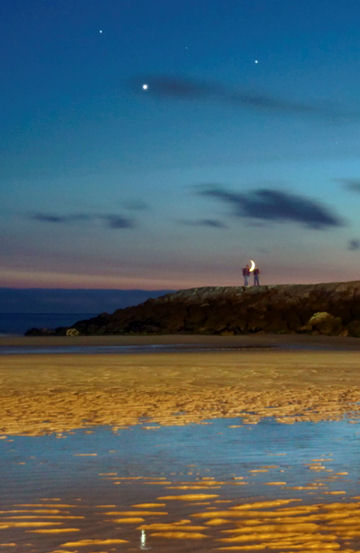 "The lovely scenery was obtained from a beach in Costa da Caparica, Almada, Portugal, facing the Atlantic Ocean," says photographer Miguel Claro. "By coincidence, two people were enjoying the view, and I was lucky enough to catch them perfectly aligned with the crescent Moon."
Claro took the picture on August 12th when the Moon was first approaching the planets. Tonight, August 13th, the crescent will be in even closer proximity. Go outside at sunset and take a look! [sky map]
more images: from Asela Attygala of Colombo, Sri Lanka; from David Marshall of Long Beach, Christ Church, Barbados; from David A. Harvey of Steward Observatory, Mount Lemmon, Arizona, USA; from Mike O'Leary of El Cajon, CA
---
Solar Eclipse Photo Gallery
[NASA: South Pacific Eclipse] [animated map]
---
August 2010 Northern Lights Gallery
[previous Augusts: 2009, 2008, 2007, 2006, 2005, 2004, 2003]