| | | |
| --- | --- | --- |
| NEW AND IMPROVED: Turn your iPhone or iPod Touch into a field-tested global satellite tracker. The Satellite Flybys app now works in all countries. | | |
ANOTHER SURPRISE FROM THE SUN: A massive "current of fire" on the sun has started running at high speed, surprising researchers and challenging some models of the solar cycle. Get the full story from Science@NASA.
NORTHERN LIGHTS: Statistically speaking, March is the most geomagnetically active month of the year; October is a close second. Although the reasons why are not fully understood, there is no doubt that equinoxes favor auroras. Just look at the sky this morning over Tromsø, Norway: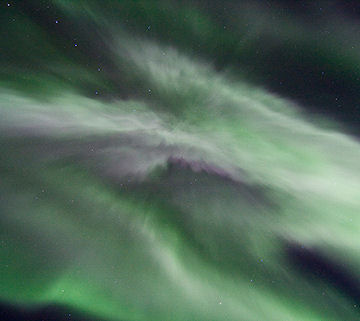 "It was a sudden and stunning outburst of activity," says photographer Thomas Hagen. "The auroras were so bright, they turned the water green."
This could be just the beginning of a really terrific display on March 16th and 17th. That's when a solar coronal mass ejection (CME, movie) is due to hit Earth's magnetic field. NOAA forecasters estimate a 30% chance of geomagnetic activity and a 5% chance of severe geomagnetic storms. Sky watchers in Alaska, Canada, Scandinavia, and northern-tier US states such as Minnesota and Wisconsin should be alert for auroras.
UPDATED: March Northern Lights Gallery
[previous Marches: 2009, 2008, 2007, 2006, 2005, 2004, 2003]
BIG SUNSPOT: Sunspot 1054 is so big, you can see it without a telescope. All you really need is a bank of thick clouds. Yesterday in Lusby, Maryland, a dark cloud drifted across the sun and "there was the sunspot!" reports Neil Winston. "I grabbed my camera and snapped this picture."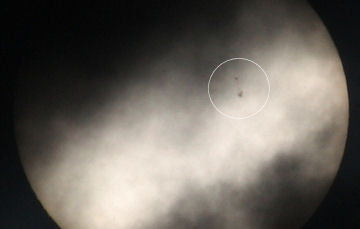 Photo details: Canon Rebel XSi, 300mm telephoto lens, 1/4000s
Readers, beware. While it is possible to see sunspot 1054 with the naked eye, staring at the sun is dangerous even when dimmed by clouds. A sudden gap in the cumulous, a lance of intense sunlight, and--presto!--you're blinking in pain. Photographing low or cloudy suns with a digital camera can be safe as long as you do not look directly through the viewfinder; Winston's photo is a good example. Your best bet, however, is a safely-filtered solar telescope. Click on the links below to see what proper optics can do.
more images: from Peter Paice of Belfast, Northern Ireland; from Pete Lawrence of Selsey, West Sussex, UK; from Athanasios Georgiou of Filyro, Thessaloniki, Greece; from John Nassr of Baguio, Philippines; from Steve Riegel of Santa Maria, CA; from Jimmy Eubanks of Boiling Springs, SC; from Gianni Pasquali of Cimone, Trentino, Italy; from Fabio Mariuzza of Biauzzo - Italy; from Keith Davies of Swansea, South Wales, United Kingdom
---