| | | |
| --- | --- | --- |
| Never miss another geomagnetic storm. Sign up for Space Weather Alerts and you'll receive a text message when auroras appear in your area. Aurora tour guides and professional astronomers use this service. Now you can, too! | | |
A CME IS COMING: High-latitude sky watchers should be alert for auroras on Aug. 20th when a CME (coronal mass ejection) is expected to graze Earth's magnetic field. Launched into space on Aug. 16th by a slow-motion solar flare, the CME is not heading directly for Earth. Nevertheless, NOAA models of the CME suggest that a glancing blow is likely. Storm levels could reach category G1. Aurora alerts: SMS Text
AURORA SEASON BEGINS: Around the Arctic Circle, sky watchers have been waiting months for the midnight sun to fade away--just enough to see auroras again. Last night it happened. "She's back! The first auroras of the season have appeared here in Oulu, Finland," reports Thomas Kast, who took this picture of the display: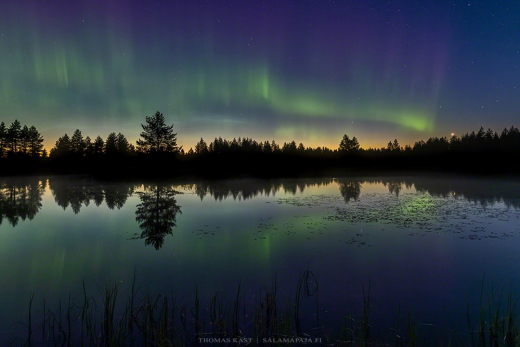 "Every year I long for this moment after the bright summer and it is always so special," he says. 

The display was caused by a minor stream of solar wind flowing from a southern hole in the sun's atmosphere. It brushed Earth's magnetic field during the late hours of Aug. 18th, sparking auroras at several locations around Finland. An incoming CME due on August 20th could spark the second auroras of the new season. Stay tuned. Aurora alerts: SMS Text
Realtime Aurora Photo Gallery
Free: Spaceweather.com Newsletter
RESEARCHERS PREDICT A SURGE OF COSMIC RAYS: Cosmic rays are bad--and they're about to get worse. That's the conclusion of a new study just published in the research journal Space Weather.
"During the next solar cycle, we could see cosmic rays increase by as much as 75%," says lead author Fatemeh Rahmanifard of the University of New Hampshire's Space Science Center. "This will limit the amount of time astronauts can work safely in interplanetary space."

Cosmic rays are the bane of astronauts. They come from deep space, energetic particles hurled in all directions by supernova explosions and other violent events. No amount of spacecraft shielding can stop the most energetic cosmic rays, leaving astronauts exposed whenever they leave the Earth-Moon system.
Back in the 1990s, astronauts could travel through space for as much as 1000 days before they hit NASA radiation safety limits. Not anymore. According to the new research, cosmic rays could limit trips to as little as 290 days for 45-year old male astronauts, and 204 days for females. (Men and women have different limits because of unequal dangers to reproductive organs.)
Why are cosmic rays growing stronger? Blame the sun. The sun's magnetic field wraps the entire solar system in a protective bubble, normally shielding us from cosmic rays. In recent decades, however, that shield has weakened--a result of the sputtering solar cycle.


Above: The sunspot cycle has been trending weaker since the 1950s. [More]
Solar activity isn't what it used to be. In the 1950s through 1990s, the sun routinely produced intense Solar Maxima with lots of sunspots and strong solar magnetic fields. Now look at the plot, above. Since the heyday of the late 20th century, the 11-year solar cycle has weakened, and the sun's magnetic field has weakened with it.
Rahmanifard and colleagues believe we could be entering a Grand Minimum--a long, slow dampening of the 11-year solar cycle, which can suppress sunspot counts for decades. The most famous example of a Grand Minimum is the Maunder Minimum of the 17th century when sunspots practically vanished for 70 years.
"We are not in a Maunder Minimum," stresses Rahmanifard. "The current situation more closely resembles the Dalton minimum of 1790-1830 or the Gleissberg minimum of 1890-1920." During those lesser Grand Minima, the solar cycle became weak, but didn't completely go away.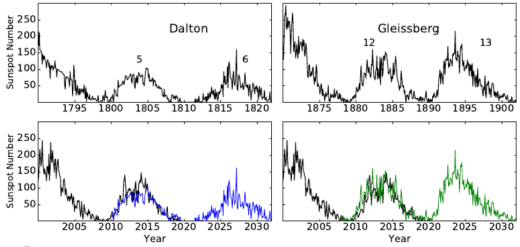 Above: Rahmanifard et al compare the Dalton and Gleissberg minima (top) to the current situation (bottom)
For years, researchers have been monitoring cosmic rays using CRaTER, a sensor orbiting the Moon onboard NASA's Lunar Reconnaissance Orbiter (LRO). Recent data show that cosmic rays have reached very high levels--the highest since LRO was launched in 2009. (See Figure 1 in their paper.)
"We took the latest readings from CRaTER and extrapolated them forward into Solar Cycle 25 (the next solar cycle)," says Rahmanifard. "We found that radiation doses will probably exceed already-high values by 34% for a Gleissberg-like minimum to 75% for a Dalton-like minimum."
For astronauts, it begs the question -- How much can you get done in 200 days? Cosmic rays could limit future space missions to only 6 or 7 months, probably too short for a Mars voyage. Lunar exploration could be safer because the body of the Moon itself blocks radiation. But in interplanetary space, the researchers caution, "the next decade or two may be more dangerous than previously realized."
A full and sharable version of this story may be found here.
Realtime Space Weather Photo Gallery
Free: Spaceweather.com Newsletter
THE NORTHERN LIGHTS PENDANT: On Dec. 6, 2019, the students of Earth to Sky Calculus launched a cosmic ray balloon to the stratosphere. This Northern Lights pendant went along for the ride, flying more than 107,612 feet above the rugged Sierra Nevada mountains of central California: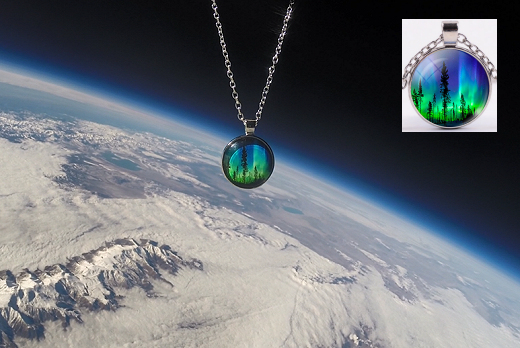 You can have it for $119.95. The students are selling these pendants to support their cosmic ray ballooning program. Each one comes with a greeting card showing the pendant in flight and telling the story of its journey to the edge of space. It makes an out-of-this-world birthday, anniversary, or Christmas gift!
Far Out Gifts: Earth to Sky Store
All sales support hands-on STEM education
---
Realtime Space Weather Photo Gallery
Free: Spaceweather.com Newsletter
---
Realtime Noctilucent Cloud Photo Gallery
Free: Spaceweather.com Newsletter
Every night, a network of
NASA all-sky cameras
scans the skies above the United States for meteoritic fireballs. Automated software maintained by NASA's Meteoroid Environment Office calculates their orbits, velocity, penetration depth in Earth's atmosphere and many other characteristics. Daily results are presented here on Spaceweather.com.
On August 19, 2020, the network reported 24 fireballs.
(22 sporadics, 1 Perseid, 1 Northern Delta Aquariid)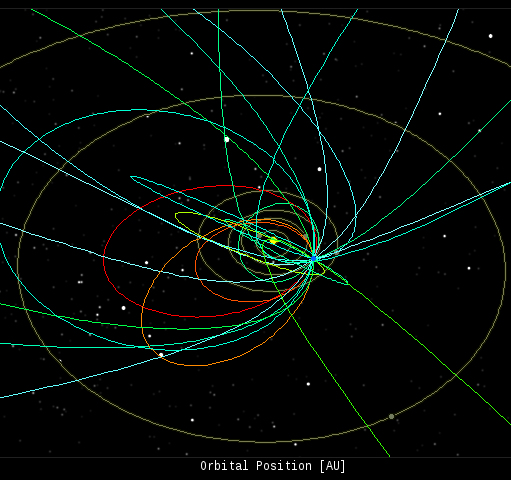 In this diagram of the inner solar system, all of the fireball orbits intersect at a single point--Earth. The orbits are color-coded by velocity, from slow (red) to fast (blue). [Larger image] [movies]
Potentially Hazardous Asteroids (
PHAs
) are space rocks larger than approximately 100m that can come closer to Earth than 0.05 AU. None of the known PHAs is on a collision course with our planet, although astronomers are finding
new ones
all the time.
On August 19, 2020 there were
2037
potentially hazardous asteroids.

Recent & Upcoming Earth-asteroid encounters:
Asteroid

Date(UT)

Miss Distance

Velocity (km/s)

Diameter (m)

2020 PW2

2020-Aug-14

0.7 LD

10.8

6

2020 QQ

2020-Aug-14

5.5 LD

16.5

13

2020 QH

2020-Aug-14

6.7 LD

11.5

32

2020 PT2

2020-Aug-14

6.9 LD

8.7

21

2020 QJ

2020-Aug-15

4.1 LD

4.7

16

2020 QG

2020-Aug-16

0 LD

12.3

4

2020 PJ2

2020-Aug-16

5.1 LD

10

15

2020 QF1

2020-Aug-16

1.5 LD

13.3

7

2020 PU1

2020-Aug-18

6.2 LD

8.3

18

2020 QW

2020-Aug-18

4.6 LD

10.3

33

2020 QE1

2020-Aug-18

16.9 LD

6.4

17

2020 QY

2020-Aug-18

3.3 LD

16.1

33

2020 QC

2020-Aug-18

2 LD

18.8

11

2020 PS

2020-Aug-19

6.2 LD

8.8

46

2020 QO1

2020-Aug-20

3.7 LD

26.5

13

2020 PY2

2020-Aug-20

0.9 LD

16.8

18

2020 PQ2

2020-Aug-21

4.6 LD

19.7

46

2020 QP

2020-Aug-21

16.1 LD

24.7

56

2020 QF

2020-Aug-23

9 LD

6.9

12

2020 FA1

2020-Aug-23

18.4 LD

1.9

20

2020 QD1

2020-Aug-23

10.1 LD

13.5

16

2020 PP3

2020-Aug-24

16.2 LD

9.5

40

2020 PJ6

2020-Aug-24

13.9 LD

3.3

28

2020 QP1

2020-Aug-25

19.7 LD

8.8

22

2016 AH164

2020-Aug-26

15.7 LD

5.6

4

2020 PF3

2020-Aug-26

6.4 LD

9.6

28

2011 ES4

2020-Sep-01

0.3 LD

8.2

30

2020 PG6

2020-Sep-02

5.9 LD

6.6

14

465824

2020-Sep-06

19.4 LD

14

162

2020 PT4

2020-Sep-08

4.9 LD

12.4

40

2012 RM15

2020-Sep-12

14.9 LD

9.8

45

2017 US

2020-Sep-13

17.3 LD

5.9

21

2014 QJ33

2020-Sep-18

11.5 LD

8.3

65

2017 SL16

2020-Sep-20

8.9 LD

6.4

25

2001 GP2

2020-Oct-01

6.1 LD

2.2

15

2010 UC

2020-Oct-04

14.6 LD

3.2

12

2019 SB6

2020-Oct-07

11.9 LD

7.6

16

2018 GD2

2020-Oct-13

16.4 LD

6.7

5

Notes: LD means "Lunar Distance." 1 LD = 384,401 km, the distance between Earth and the Moon. 1 LD also equals 0.00256 AU. MAG is the visual magnitude of the asteroid on the date of closest approach.

| | |
| --- | --- |
| | Cosmic Rays in the Atmosphere |

SOMETHING NEW! We have developed a new predictive model of aviation radiation. It's called E-RAD--short for Empirical RADiation model. We are constantly flying radiation sensors onboard airplanes over the US and and around the world, so far collecting more than 22,000 gps-tagged radiation measurements. Using this unique dataset, we can predict the dosage on any flight over the USA with an error no worse than 15%.

E-RAD lets us do something new: Every day we monitor approximately 1400 flights criss-crossing the 10 busiest routes in the continental USA. Typically, this includes more than 80,000 passengers per day. E-RAD calculates the radiation exposure for every single flight.

The Hot Flights Table is a daily summary of these calculations. It shows the 5 charter flights with the highest dose rates; the 5 commercial flights with the highest dose rates; 5 commercial flights with near-average dose rates; and the 5 commercial flights with the lowest dose rates. Passengers typically experience dose rates that are 20 to 70 times higher than natural radiation at sea level.

To measure radiation on airplanes, we use the same sensors we fly to the stratosphere onboard Earth to Sky Calculus cosmic ray balloons: neutron bubble chambers and X-ray/gamma-ray Geiger tubes sensitive to energies between 10 keV and 20 MeV. These energies span the range of medical X-ray machines and airport security scanners.

Column definitions: (1) The flight number; (2) The maximum dose rate during the flight, expressed in units of natural radiation at sea level; (3) The maximum altitude of the plane in feet above sea level; (4) Departure city; (5) Arrival city; (6) Duration of the flight.

SPACE WEATHER BALLOON DATA: Approximately once a week, Spaceweather.com and the students of Earth to Sky Calculus fly space weather balloons to the stratosphere over California. These balloons are equipped with radiation sensors that detect cosmic rays, a surprisingly "down to Earth" form of space weather. Cosmic rays can seed clouds, trigger lightning, and penetrate commercial airplanes. Furthermore, there are studies ( #1, #2, #3, #4) linking cosmic rays with cardiac arrhythmias and sudden cardiac death in the general population. Our latest measurements show that cosmic rays are intensifying, with an increase of more than 18% since 2015:

The data points in the graph above correspond to the peak of the Regener-Pfotzer maximum, which lies about 67,000 feet above central California. When cosmic rays crash into Earth's atmosphere, they produce a spray of secondary particles that is most intense at the entrance to the stratosphere. Physicists Eric Reneger and Georg Pfotzer discovered the maximum using balloons in the 1930s and it is what we are measuring today.

En route to the stratosphere, our sensors also pass through aviation altitudes:

In this plot, dose rates are expessed as multiples of sea level. For instance, we see that boarding a plane that flies at 25,000 feet exposes passengers to dose rates ~10x higher than sea level. At 40,000 feet, the multiplier is closer to 50x.

The radiation sensors onboard our helium balloons detect X-rays and gamma-rays in the energy range 10 keV to 20 MeV. These energies span the range of medical X-ray machines and airport security scanners.

Why are cosmic rays intensifying? The main reason is the sun. Solar storm clouds such as coronal mass ejections (CMEs) sweep aside cosmic rays when they pass by Earth. During Solar Maximum, CMEs are abundant and cosmic rays are held at bay. Now, however, the solar cycle is swinging toward Solar Minimum, allowing cosmic rays to return. Another reason could be the weakening of Earth's magnetic field, which helps protect us from deep-space radiation.

| | |
| --- | --- |
| | The official U.S. government space weather bureau |

| | |
| --- | --- |
| | The first place to look for information about sundogs, pillars, rainbows and related phenomena. |

| | |
| --- | --- |
| | Researchers call it a "Hubble for the sun." SDO is the most advanced solar observatory ever. |

| | |
| --- | --- |
| | 3D views of the sun from NASA's Solar and Terrestrial Relations Observatory |

| | |
| --- | --- |
| | Realtime and archival images of the Sun from SOHO. |

| | |
| --- | --- |
| | from the NOAA Space Environment Center |

| | |
| --- | --- |
| | fun to read, but should be taken with a grain of salt! Forecasts looking ahead more than a few days are often wrong. |

| | |
| --- | --- |
| | from the NOAA Space Environment Center |

| | |
| --- | --- |
| | the underlying science of space weather |

To find reviews of new online casino sites in the UK try The Casino DB where there are hundreds of online casino reviews complete with bonuses and ratings.

Get a bonus when playing at a new casino in the UK. The Genie got you covered! 

Looking for a new online casino? Try Casimpo the new site dedicated to making online casino simple, or check out the new Avenger Slots Casino and Slot Strike Casino Sites with over 500 online slots and casino games. .

| | |
| --- | --- |
| | These links help Spaceweather.com stay online. Thank you to our supporters! |