| | | |
| --- | --- | --- |
| ASTRONOMY ALERTS: Looking for a unique and affordable gift? Give the heavens for Christmas at Spaceweather PHONE. | | |
DECEMBER SOLSTICE: The December solstice occurs on Monday, Dec. 21st, at 1747 UT (12:47 pm EST) when the sun dips to its lowest celestial latitude of the year. The event marks the beginning of summer in the southern hemisphere and winter in the northern hemisphere--and some wonderful sunsets at Stonehenge. Happy Solstice!
SUNSET SKY SHOW: When the sun sets tonight, go outside and look up. Jupiter and the crescent Moon will be shining side-by-side in the southwestern sky. P-M Hedén sends this photo of his children enjoying the view from Vallentuna, Sweden: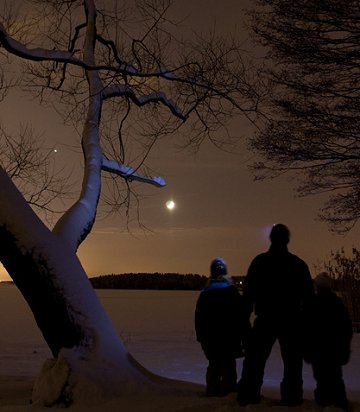 Advice: Look before the sky fades all the way to black. A bright conjunction of worlds framed by twilight blue is an especially lovely sight. [sky map]
more images: from Rafael Schmall of Hungary, Somogy, Kaposfo; from Mark Claudel Arzadon of San Jacinto, Pangasinan, Philippines; from Geir Øye of Ørsta, Norway; from Tamás Ábrahám of Zsámbék, Hungary; from Stefano De Rosa of Turin, Italy;
SOLAR TRANSIT: Yesterday, amateur astronomer Lars Zielke was photographing sunspot 1035 using a solar telescope at his backyard observatory in Tvis, Denmark. Everything was going fine when suddenly a shadowy black form transited the field of view: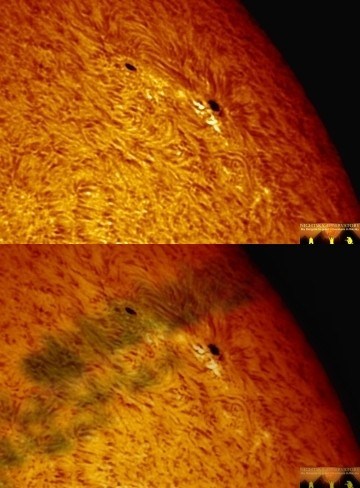 "Normally these kinds of black spots are caused by birds or bugs," he says. "But today I found something very interesting. Please see the movie where I have slowed down the speed to 4 frames per second from the original 60 fps."
Mystery solved. Merry Christmas!
more sunspot photos: from Rogerio Marcon of Campinas - Brasil; from John C McConnell of Maghaberry, Northern Ireland; from Pete Lawrence of Selsey, West Sussex, UK; from Jimmy Eubanks of Boiling Springs, SC; from Steve Riegel of Santa Maria, CA; from Cai-Uso Wohler of Bispingen, Germany; from Peter Paice of Belfast, Northern Ireland;
---
2009 Geminid Meteor Gallery
[sky map] [meteor radar] [Geminid counts]
---
December Northern Lights Gallery
[previous Decembers: 2008, 2007, 2006, 2005, 2001, 2000]
---